Obox Design released a responsive Woocommerce theme called Jumbo. Obox missed launching a theme in January 2014 due to they focus on the brand new Obox site that will be launching in mid-March, so this theme is the first theme in 2014 on Obox. It comes with 12 page templates, super-flexible layout options, unlimited colors, huge customization options, mobile-friendly design, typography manager and everything from eCommerce to business to portfolio functionality.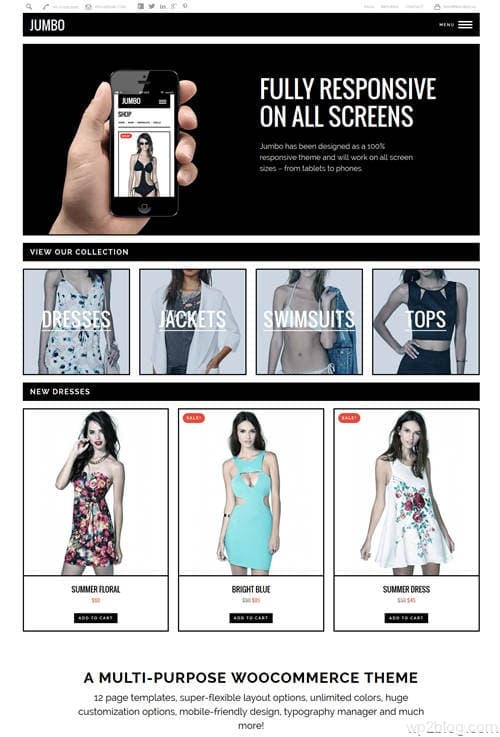 Price: Standard: $79 Developer: $139 Membership: $159/year
Obox Design also offers a range of professional & premium WordPress / Tumblr / Posterous themes including magazine / news, presonal blog, media, photo gallery, video and business / CMS templates.

OCMX Live is an advanced Framework which comes packaged with every Obox Theme, turning your WordPress site into an even more powerful content management system.
Features
Perfect for Small Businesses – With many great options, Jumbo is a great theme for your Business whether you're a corporate, free-lancer or small business.
Flexible Home Page – Use the simple drag and drop widget system to control your homepage layout, giving you endless possibilities.
Custom Post types – Custom post types make up the core of the content within Jumbo like, team, partners, testimonials and services.
Unique Slider – The unique slider is powerful and offers you many options like layout, color, slider background image and more.
12 Page Templates – The Jumbo WordPress theme by Obox comes with an incredible choice of 12 page templates for you to use on your site.
Intuitive Content Widget – Obox's Content Widget is one of the most superior widgets in any WordPress theme with a vast amount of options.
Shipping & Tax – The eCommerce plugin has built in comprehensive shipping settings enabling you to define shipping costs per product, or declare a flat rate for all your products, you can also offer free shipping.
Payment Gateways – If you don't want to go through the trouble of adding your own payment gateway, the plugin already supports a wide variety of popular payment gateways for you that are Plug & Play.
Create & Sell all kinds of Products – The plugins product management is focused on ease-of-use; if you're comfortable writing & publishing a post within WordPress, adding products will be a similar breeze.