Arthemia Premium is an attractive and feature packed premium theme for WordPress. With numerous built in features the theme allows you to turn WordPress into a powerful content management system (CMS), and can be used to run a corporate website, an online magazine or even a personal blog.
Home Page Style 1
Home Page Style 2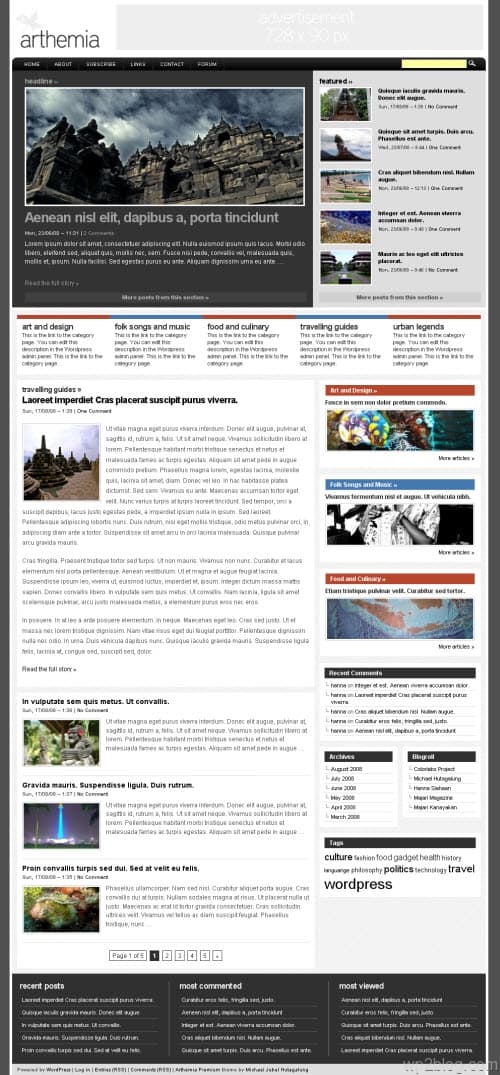 Features:
Theme Administration Panel: manage everything from the theme administration panel. You can assign images for header logo, bookmark (favorite) icon, categories for headline and featured section, categories to be shown in the category bar, latest posts from each category, thumbnail sizes, show/hide post excerpts, and more.
Category Color Assignment: Assign colors to each of your blog category and stand out with your own styling.
Automatic Thumbnail Generation and Assignment: Thumbnails across the theme will be assigned and generated automatically as requested, for every image size.
Banner & Adsense Management: Complete your Adsense account information in the theme administration panel and your Adsense will be on your website, in one click. Also easily configure banner ads.
Analytics and Feedburner: Google Analytics and Feedburner integration.
Navigation Drop-down Menu
Cross-Browser Compatible: Designed to meet the latest W3C standard compliant, renders perfectly in Safari, Firefox, Opera, and Internet Explorer. W3C CSS and XHTML valid.
Gravatar support
A blog and a magazine, blended
Popular Post Listing
Sidebar and Footer Widget
After-sales support and upgrade: Purchase packages include a free after-sales support and upgrades.
Detailed information on the theme features and theme administration panel screenshots can be found at the theme release page.
Price:
Single Site Licence: $70
Multi Site License: $140
Developer License: $240
Demo & Release Page | Purchase
Rate this theme:
[ratings]