Boast is a modern business style premium WordPress theme from WooThemes with a glossy design. The theme features a flexible homepage layout with custom featured content slider area, as well as a secondary featured content section with scrolling widget boxes. It also includes custom navigation control, various custom widgets, backend option panel, 10 alternative colour schemes and more.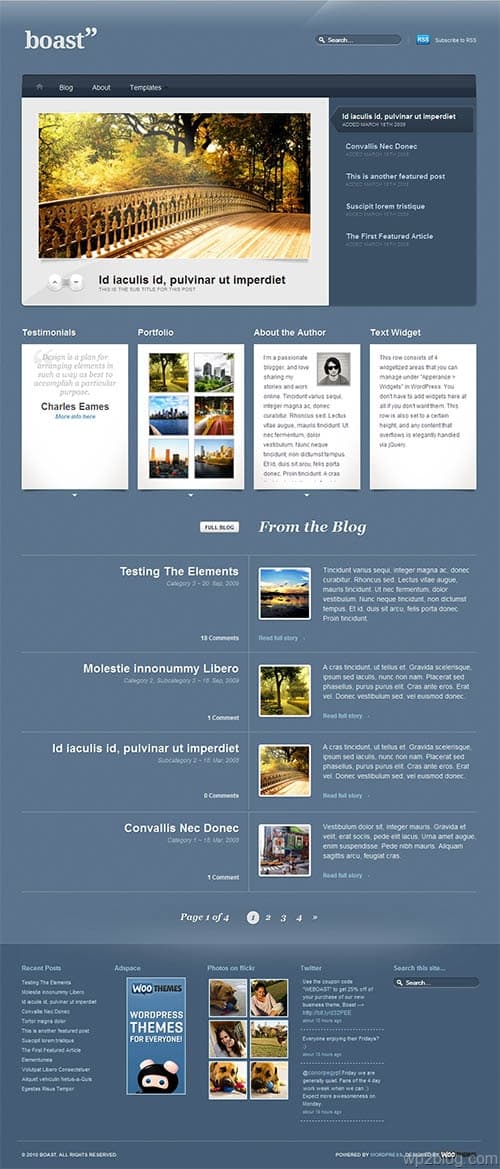 Features
Custom home page featured slider area
Secondary widget scrolling featured section on the homepage
Custom home page layout
Custom Widgets: Testimonials, Twitter, Gallery / Portfolio, Blog Information, Ads & Search
10 Alternative Colour Styles
5 Column Widgetized Footer
Woo Custom Navigation – allowing you full customization over how your navigation should be structured
Backend options panel – make simple changes without editing code, like adding your own logo, changing to an alternate colour style, adding Google Analytics code
Cross browser compatible
Auto-sizing thumbnails
Localized for translations
Custom page templates
Price:
Standard: $70
Developer: $150
There is a permanent 3-for-1 offer, or get all 50+ themes in the WooThemes Club
Demo & Release Page | Download
Woo Themes have an excellent selection of high quality WordPress themes covering a wide variety of niches including: business, CMS, magazine & news, portfolio, photo lifestream, multimedia, personal and professional blog designs.