Bravo is a bold and colourful web 2.0 business / CMS WordPress theme from iThemes. The theme features an easy logo uploader, widget ready homepage and sidebars and you can easily modify the colour styles and images to match your personal brand.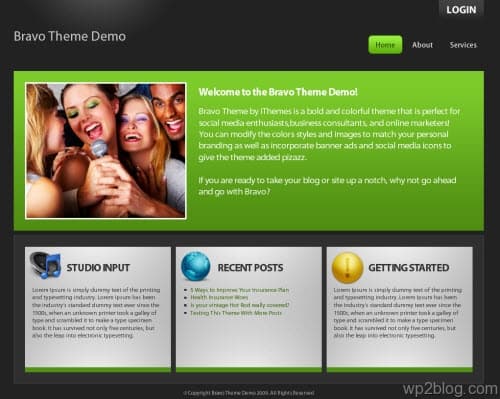 Features
Custom image uploader (with text header option)
Widget ready feature and sidebar areas
Rotating feature image on homepage
3 Page Templates (left and right sidebars, plus one column/landing page)
Contact Form Page Template
Multi-Level Dropdown Menus
Theme Options that allow you to easily paste tracking code and enable features
Price:
Single Use: $79.95
Multiple Use: $149.95
Get this theme and 30+ more themes from iThemes with the All Access Pass
Demo & Release Page | Purchase
iThemes have a large collection of quality premium WordPress themes catering for web developers. Theme styles include: ecommerce, real estate, photography themes, portfolio, internet marketing, CMS, corporate and business, and blog themes.