WooThemes have released version 2.0 of their Canvas theme. The new version includes a new magazine style and a business style template. Both templates have a featured jQuery slider that can show posts or pages.
Canvas is a clean and minimalistic premium WordPress theme with a huge number of backend options that allow you to easily customise every element of the theme to make the design, layout and typography exactly as you want. The theme has 90+ options to customise the style and typography of every element in the design. It also includes 5 different site width options, 6 layout options for the content / sidebars, custom widgets, and a child theme friendly structure with custom hooks to easily customise the theme via the use of child themes.
Magazine Layout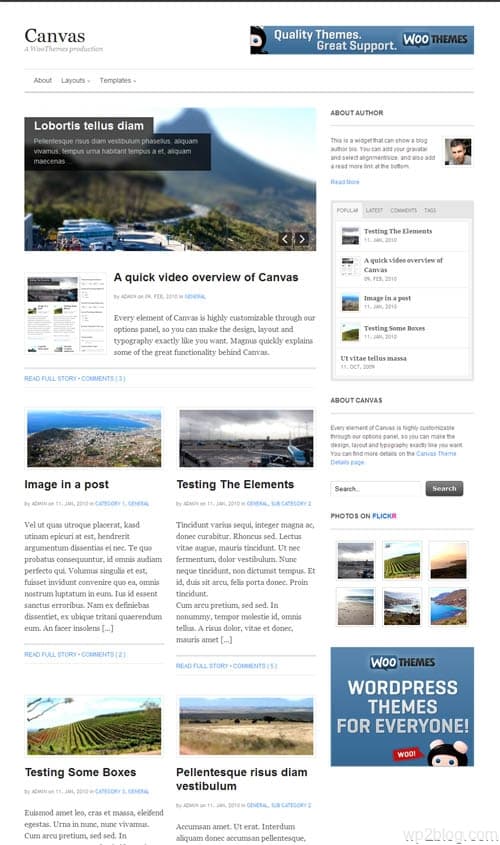 Business Layout

Features
Customize any element – 90+ options to tweak colours, borders, font-sizes, font-families etc
Upload background & header imagery via the backend
Easy change site width – easily change between 5 different site widths (980, 960, 940, 880 and 760 pixels) and also an option to box your layout in.
6 Layout Options – choose between 6 different layouts for and order of content/sidebars (full width, 2 col left, 2 col right, 3 col left, 3 col middle, 3 col right). Canvas also lets you specify individual layouts per post or page
Custom Widgets – Tabs, Flickr, Twitter, Adspace, Search etc
Child Theme Friendly – custom hooks makes it a lot easier to customize the theme via a child theme without touching any code in the main parent theme
Custom Navigation – allowing you full customization over how your navigation should be structured
Backend options panel – make simple changes without editing code, like adding your own logo, changing to an alternate colour style, adding Google Analytics code
Cross browser compatible
Auto-sizing thumbnails
Localized for translations
Custom page templates
Price:
Standard: $70
Developer: $150
There is a permanent 3-for-1 offer, or get all themes in the WooThemes Club
Demo & Release Page | Download
Woo Themes have an excellent selection of high quality WordPress themes covering a wide variety of niches including: business, CMS, magazine & news, portfolio, photo lifestream, multimedia, personal and professional blog designs.