Gorilla Themes have released CelebrityPress 2.5, an updated version which includes a range of new features including a new article slideshow, logo uploading script, 2 new homepage layout options and more.
CelebrityPress is sexy premium WordPress theme for online gossip magazines and fashion websites blogging about celebrities and lifestyle.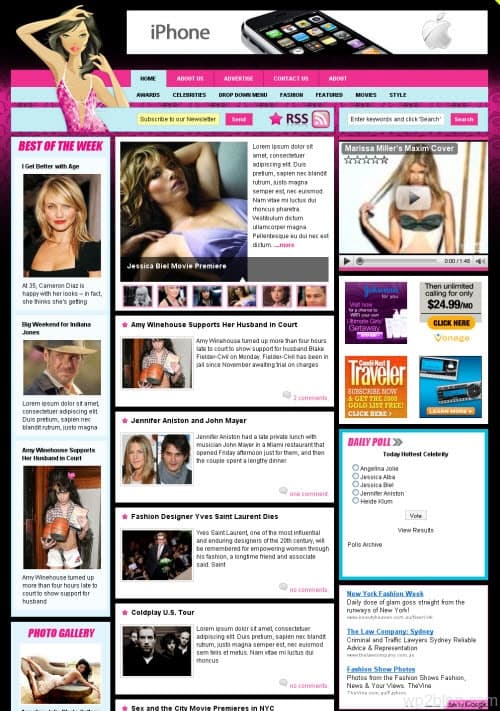 Home Page Layout Options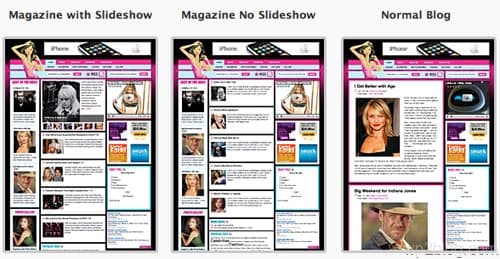 Features and Updates
New Article Slider Feature on Homepage (Up to six articles with thumbnails and autoplay feature.)
New Logo Upload script, upload your own logo within the admin section without knowledge of php, css or touching the code.
New Homepage layout selector, pick between the 3 layouts include in the theme, Magazine Style with Content Slider, Magazine Style without Content SLider (old layout) and a NEW Blog layout style.
Bigger thumbnails on main articles on homepage.
Comments count and icon on main articles on homepage.
New Shadowbox update.
Gallery display all thumbnails in one page each individual one links to a Shadowbox overlay with full image.
Menu highlight on current page fixed.
Spacing added to bottom homepage posts.
Comments styled
Unordered list on single post fixed.
Minimum height of posts on iE6 fixed.
RSS icon mouse-over fixed.
New Transparent Flickr logo.
Bigger thumbnails on Left Sidebar
Gallery Thumbnails Setup at 150×150 for best display.
Price:
Single License: $79.95
Multi Site: $149.95
Developer: $249.95
Demo & Release Page | Purchase
Rate this theme
[ratings]