I'm very exciting to give you a new Sneak Peek at Elegant Themes's upcoming theme – Convertible. It is a functional and beautiful landing page theme. It will come packed with loads of custom modules and customization options. They are also hard at working creating an awesome visual/drag-and-drop content builder for structuring your page. This new content builder is the part of the theme. I hope you like this preview and also you can submit you idea about this theme. Stay tuned.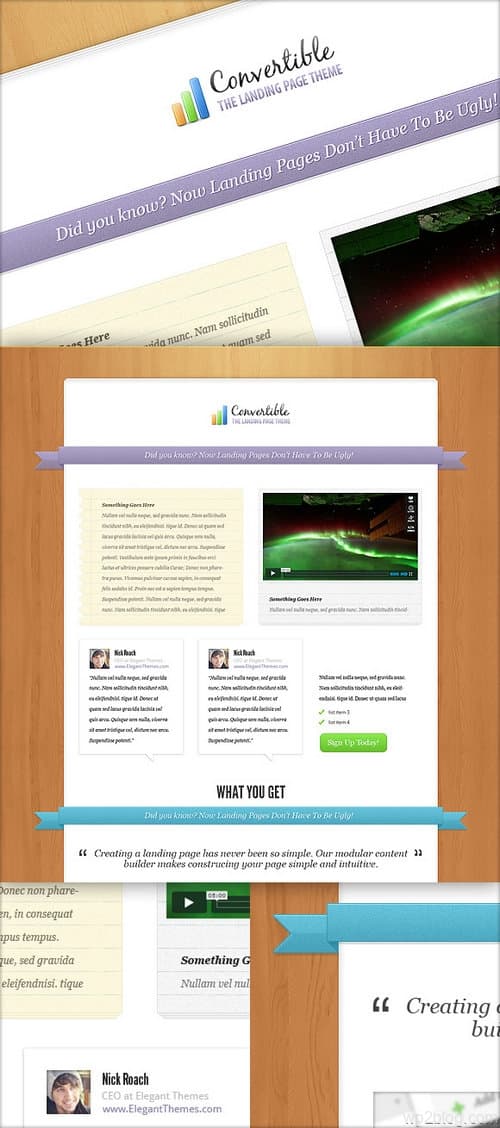 Features
Shortcodes Collection – Easy to customize your post's content. Once you start using many shortcodes, you will wonder how you ever lived without them.
Automated Thumbnail Resizing
Advertising Management
Complete Localisation
Threaded Comments
Gravatar Ready
PSD files
Valid XHTML + CSS
Smooth Tabless Design
Firefox, Opera, Netscape, Safari IE8 + IE7 + IE6 compatible
Price: Club Membership for only $39 (Best Value)
Developer's License: $89
Elegant Themes Club Membership provides unlimited access to 60+ themes with 2-3 new themes each month (the price per theme is less than $0.65!). They create high quality, professional User-Interface, fashion & beautiful premium WordPress themes for various niches including: Business / CMS, ecommerce, magazine / news, portal, portfolio, personal, micro and professional blogging.