The Writer is a creative & minimal writing WordPress theme from Obox Design built for aspiring writers, authors and columnists and made sure that your long form articles are packaged in an easy to read layout which is customizable and mobile friendly. This theme inspired by what the New York times has done with Tomato Can Blues and Snow Fall.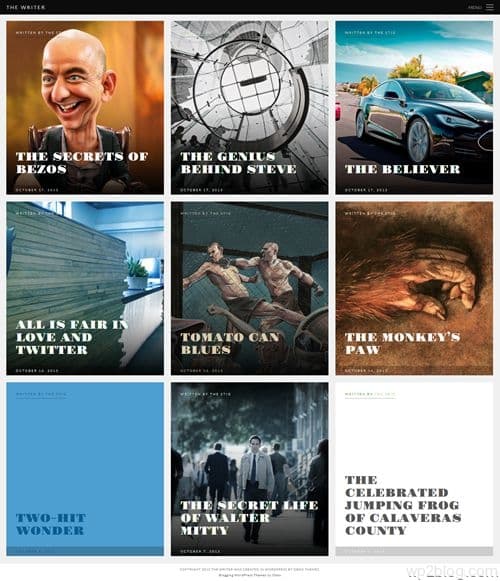 Price: Standard: $79 Developer: $139 Membership: $159/year
Obox Design also offers a range of professional & premium WordPress / Tumblr / Posterous themes including magazine / news, presonal blog, media, photo gallery, video and business / CMS templates.

OCMX Live is an advanced Framework which comes packaged with every Obox Theme, turning your WordPress site into an even more powerful content management system.
Features
Pop out sidebar – In order to keep your content as clean and clutter free as possible we have moved the menu and sidebar to a mobile friendly pop-out panel.
Gorgeous article covers – Upload beautiful covers your articles and short stories and create a similar feeling to high-gloss magazines.
Typography perfection – Long articles have never felt this short. Hours upon hours have been spent making sure the typography of The Writer is perfect for reading.
Create Beautiful Covers – Upload a background image or custom color scheme to each article in order to create a beautiful collection of articles to show off on your home page.
Visual Customization – Take full control over the look of your site with a new visual customizer.
Auto Video & Image Sizing – By using the safe & secure WordPress image resizer, there's no more need to resize images manually.
oEmbed Functionality – oEmbed functionality enables your theme to automatically create video thumbnails and display statistics like views and plays.
Self hosted Videos – Want to host your own videos? You can do that as well. Our themes give you the ability to upload your own easily.