Diarise is a flexible event management WordPress theme from WooThemes. The premium theme is ideal for sports clubs, schools, churches, event organising companies etc to showcase company / organisation events. Event details are managed via a custom settings panel under the WYSIWIG post editor, and the theme also has a simple booking form. Other features include: 8 alternative colour schemes, 9 custom widgets, and a completely modular homepage allowing you to customise the site to your requirements.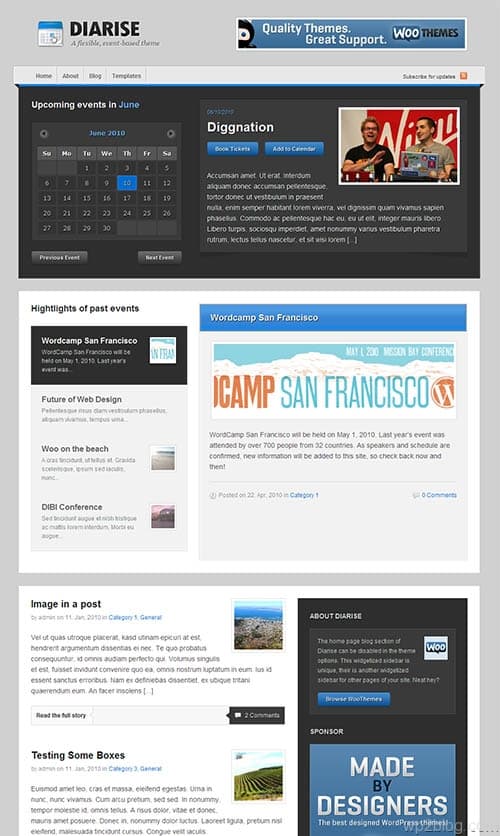 Features
Event Calendar – A custom home page event calendar to showcase your upcoming events in a neat tabber, navigated by month or event sequence. Buttons to add the calendar directly to your Google Calendar, Microsoft Outlook or Apple iCal, and a button to link to your booking form for the event if applicable.
Featured Posts Scroller – showcase highlights of past events, or notable blog posts
Completely Modular Home Page – home page can be set to show the Event Calendar, Featured Posts Scroller, Blog Section and Widgetized Footer or any combination of these. Modules can easily be disabled via the theme options.
9 Custom Widgets – for use in the widgetized sidebar and footer
8 Colour Style Options
Woo Custom Navigation – allowing you full customization over how your navigation should be structured
Backend options panel – make simple changes without editing code, like adding your own logo, changing to an alternate colour style, adding Google Analytics code
Cross browser compatible
Auto-sizing thumbnails
Localized for translations
Custom page templates
Price:
Standard: $70
Developer: $150
There is a permanent 3-for-1 offer, or get all 50+ themes in the WooThemes Club
Demo & Release Page | Download
WooThemes have an excellent selection of high quality WordPress themes covering a wide variety of niches including: business, CMS, magazine & news, portfolio, photo lifestream, multimedia, personal and professional blog, and other niche designs.