Divi is a versatile WordPress theme from Elegant Themes build on smart, flexible and powerful Divi Builder allows you to create beautiful layouts from scratch, use premade layouts, and lets you design fully responsive websites from a diverse collection of modules. This theme can be used for business, eCommerce, Portfolios, Blogs,etc. The Divi Builder was made with user experience at the forefront of its priorities. The way it is broken up into sections, rows, columns and widgets, really allows you to understand and edit the structure of your page.
There is a free Lifetime Membership giveaway available. so you can give the 86+premium WordPress themes for free. Enter today for a chance to win one of 10 free Lifetime Memberships! Log in to enter this giveaway.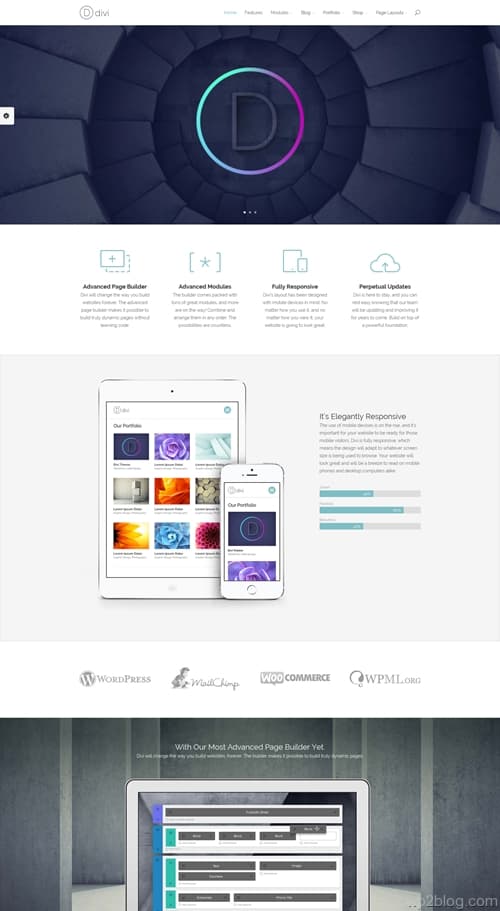 Price: Club Membership for only $39 (Best Value)
Developer's License: $89
Elegant Themes Club Membership provides unlimited access to 80+ themes with 2-3 new themes each month (the price per theme is less than $0.49!). They create high quality, professional User-Interface, fashion & beautiful premium WordPress themes for various niches including: Business / CMS, ecommerce, magazine / news, portal, portfolio, personal, micro and professional blogging.
Features
Robust Modules – The builder comes packed with tons of great modules, and more are on the way! Combine and arrange them in any order.
Countless Options – With the numerous options that come with each Divi Module, you can control the appearance and functionality of every element on your website.
Drag & Drop – The Divi Page Builder functions on a drag and drop editing system that allows you to customize and arrange your design with ease.
Video Backgrounds – Let the creativity flow with video backgrounds in your sliders and in any section of your website.
modules
Premade Layouts – Included a ton of premade layouts that you can get started with. Just fill the sample layouts with your own content for a quick and amazing looking website.
Save & Load Layouts – Save your favorite layouts for future use throughout your website.
Export & Import Saved Layouts – You can also export you saved layouts and import them to different WordPress installs.
Unlimited Colors – Using the Theme Customizer and Custom Background Images, the possibilities are endless!.
Automated Thumbnail Resizing
Advertising Management
Complete Localisation
Threaded Comments
Gravatar Ready
PSD files
Valid XHTML + CSS
Smooth Tabless Design
Firefox, Opera, Netscape, Safari IE8 + IE7 + IE6 compatible