The Elite Theme is an extremely customizable, aesthetically appealing 2 column blog style premium WordPress theme. Elite Theme includes a range of useful features such as an automatic image resizer, one click logo integration, separate custom page templates for portfolio, archives and links, advertisement integration, and easy background customization for different colours or textures.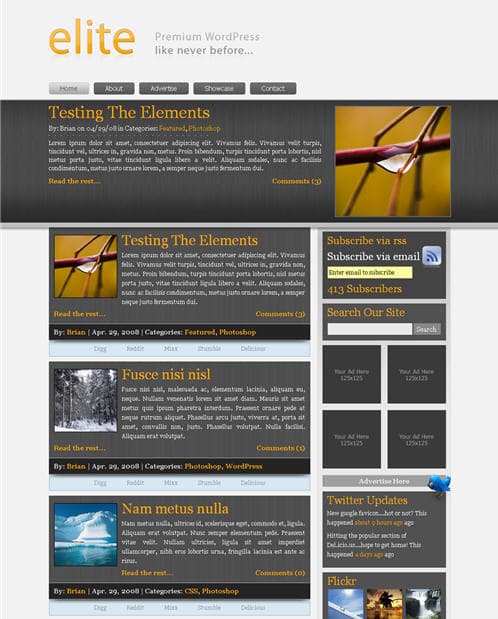 Features:
Automatic image resizer
Custom page templates for Archives, Blogroll, & Portfolio
Built in comment gravatars
Featured post section
YouTube integration
Flickr integration
Twitter integration
Fully widget-enabled sidebar
RSS & Feedburner integration
Over 15 included backgrounds
Transparent background option
Advertisement management
100% valid code
SEO friendly title and tagline
One-click logo implementation
Price:
Single Use Licence: $74.95
Multi Use License: $199.95
This theme is no longer available. Check out the latest premium WordPress themes or the best premium WordPress themes collection.