Event is a versatile premium WordPress theme from Elegant Themes that allows you to transform WordPress into a fully functional events website. A core element is the interactive calendar that can display all your events, past and present in an intuitive interface. Other features include additional listing info, 5 colour schemes, optional blog style structure, advanced theme options panel and more.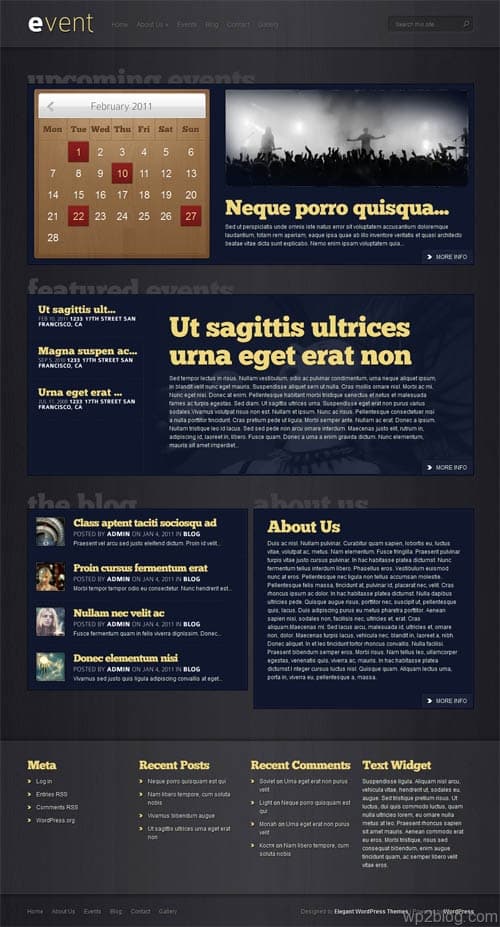 Features
Interactive Calendar – can display all of your events, past and present, in an intuitive interface. The calendar supports an unlimited number of events, as each is loaded dynamically using ajax. The calendar also supports the addition of multiple events on a single date
Additional Listings Info – each listing is enhanced by additional info pertaining to the event
5 Unique Colour Schemes
Optional Blog Style Structure
Automated Thumbnail Resizing
Advanced Theme Options Panel
Page Templates
Complete Localisation
Advanced Theme Options Panel – gives complete control over your theme and its various settings
Shortcodes Collection – large collection of shortcodes for buttons, content boxes, toggled content, tabbed content, slideshows, social media, column layouts, tooltips etc.
Complete Localisation
Advertising Management
Drop Down Menus
PSD files
Valid XHTML + CSS
Smooth tabless design
Firefox, Opera, Netscape, Safari IE8 + IE7 + IE6 compatible
Price:
ElegantThemes Membership: $39
Demo & Release Page | Download
Elegant Themes membership provides unlimited access to 50+ themes with 2-3 new themes each month (the price per theme is a mere $0.78!). They create high quality, user friendly premium WordPress theme for various niches including: CMS business, ecommerce, magazine / news, portal, portfolio, personal, micro and professional blogging.