The EWPN premium wordpress themes is loosely based on the ESPN design and will transform a your WordPress site into a distinctive news publishing system. This theme utilizes several 'easy-edit' features allowing for easier customization .
Measuring 900px in width, the theme features a whole series of Google AdSense advertisements running throughout the theme, along with two embedded flash widgets (NFL Scorecard and Integrated Video player) and a handful of custom navigational area's.
The front page separates the site's contents into category sections, maximizing the potential of your site's contents by encouraging visitors to read more items – digging deeper in the process.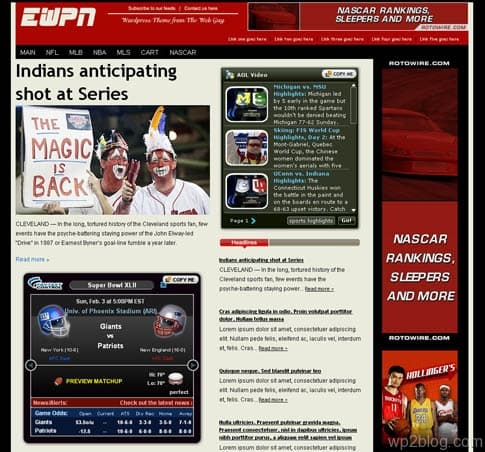 Features:
Multiple navigational area's
Advertisement placements
Flash embedded widgets
Release Date: 22 October 2007
Price: ($19.99)
Demo / Source & Download
This theme is no longer available. See the best premium wordpress themes collection or the newest premium wordpress themes.