Geometric is a hybrid blog + portfolio premium WordPress theme from Woo Themes. The theme is completely widgetised with 12 custom widget areas giving you complete flexibility with the themes layout. Geometric also features an integrated theme options panel, automatic image resizer, and comes with 10 different colour scheme options.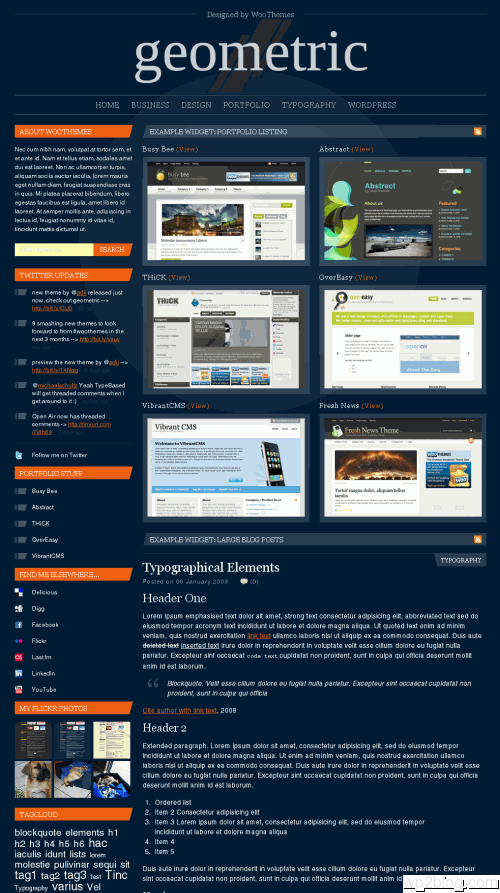 Features
Geometric is a hybrid of a blog + portfolio and thus enables you to run both these as an integrated offering on one WP installation
A custom home page, which is completely widgetized and thus allows you to move different widgets (for blogging, portfolio & social profiles) around as you wish
A completely widgetized sidebar, along with 12 custom (Geometric-specifc) widgets that you can use
Styling for both blog and portfolio items that are carried forth throughout the site (category, date-based and tag archives, along with search results)
The ability to publish all of your social profiles throughout the site; allowing you to connect with more of your users
Integrated Theme Options (for WordPress) to tweak the layout, colour scheme etc. for the theme
Automatic Image Resizer, which is used to dynamically create the thumbnails for the blog posts on the home page
Custom Page Templates for Archives & Sitemap
Built-in Gravatar Support for Comments
Integrated Banner Management script to display randomized banner ads of your choice site-wide
Price:
Single Use: $70
Developer: $150
You can purchase Geometric as an individual licence or join the WooThemes Club to access all current and future themes from Woo Themes.
Demo & Release Page | Purchase
Woo Themes have a great range of high quality WordPress themes covering a wide variety of niches ranging from business, CMS, magazine / news, portfolio, lifestream and personal blog designs.
Rate this theme:
[ratings]