Listings is a powerful business directory WordPress premium theme from WooThemes that allows any niche business to create a listings / directory based website. The theme can be used for any type of niche website, for example a car dealer, book publisher, art gallery, photographer's portfolio site, recruitment agency or anything else you can imagine. The core of the Listings theme is an advanced content builder that allows you to create custom post types, then taxonomies for those post types and custom fields for the posts within those taxonomies. Other significant features include and advanced customisable search module, custom listing page template, and options for visitors to upload a listing directly from the frontend.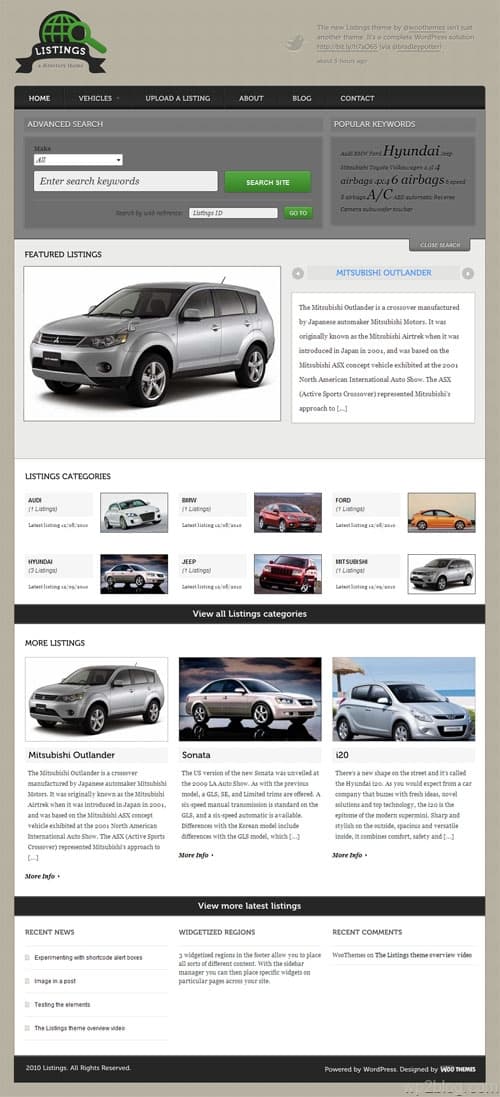 Custom Listing Page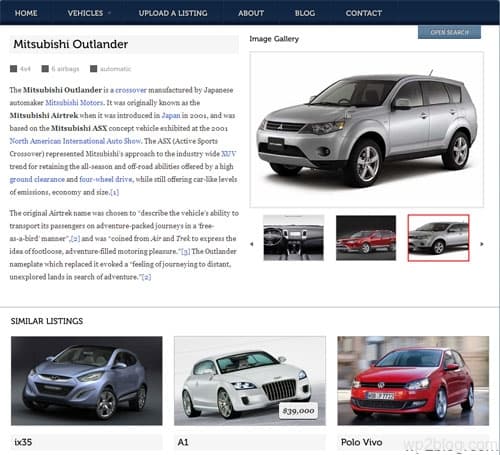 Features
Custom Homepage – showcases your directory/listings custom post types, taxonomies and latest posts, or any combination of these, with an optional featured slider, search module and widgetized areas
Featured Slider – can be enabled/disabled and displays any custom post type content
Advanced Search Module – specify exactly what custom post types / taxonomies / custom fields to use in the search module
Custom Single Listing Page Template – displays all your information in a neat modular layout, includes gallery, maps and similar listings
Upload a Listing Page Template – from your website front-end you can allow for site visitors to upload listings directly to your WP backend, ready for review and publishing
Google Maps – associate a Google Map address to your listing and enable street view and location maps
Advanced Content Builder

Create / Edit Custom Post Types – the content builder allows you create new custom post types, for example: vehicles, books, artists, musicians, jobs, the options are endless. You can then edit/delete those custom post types at a later stage
Create / Edit Custom Taxonomies – Once you've created new custom post types you can create taxonomies for them, for example: car makes, artist and musician genre, or job types. You can then add new listings and assign them to the taxonomies, like you do with posts and categories
Create / Edit Custom Fields – use the content builder to create custom fields that will appear below your WYSIWG editor for your custom post type, for example you might want to have a Google Map field for your job location, or the ISBN number of a book

Custom Navigation – customize the themes navigation to include pages, categories and custom links
Backend Theme Options Panel – make simple changes without editing code, like adding your own logo, changing to an alternate colour style, adding Google Analytics code
Custom Page Templates – full width, archives etc.
Built-in SEO Options
Cross Browser Compatible
Auto-Sizing Thumbnails
Localized for Translations
Price:
Listings Theme: $200
WooThemes Club Membership: $15 – $20 per month
Demo & Release Page | Download
Woo Themes have a large selection of quality WordPress themes covering a wide variety of niches including: business, CMS, magazine & news, portfolio, photography, lifestream, multimedia, personal, professional and mirco blog designs.