Market is an elegant, classy and fully functional WordPress eCommerce theme from Templatic that idea for those who seek a minimalist eCommerce site and for showcasing and selling your goods. This theme powered by an efficient eCommerce framework and a lots of cool features.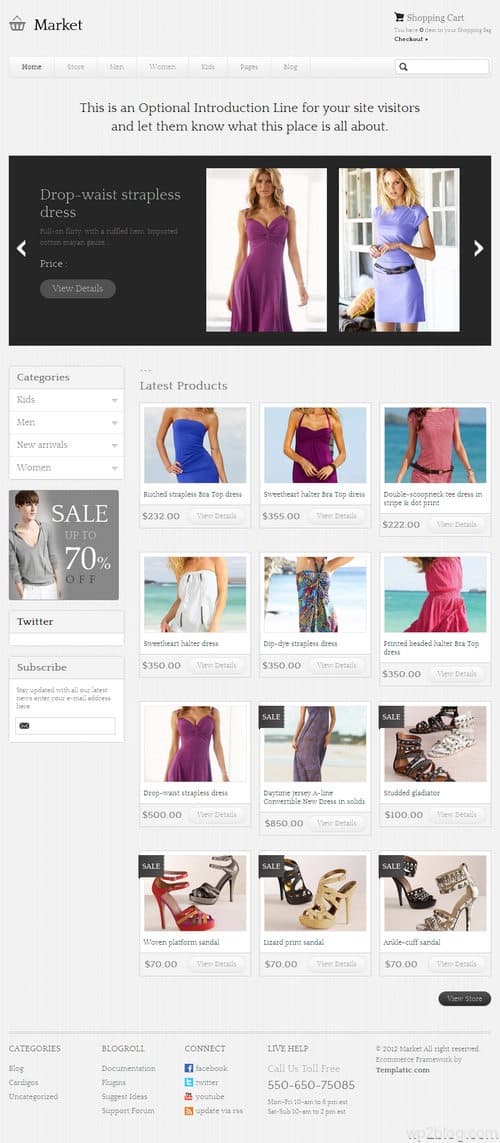 Features
Strategic homepage design – The homepage of the theme is customizable via dynamic widgets which are built specially for this theme. Designed strategically, the structure of the page is done in such a way that gives maximum exposure to essential elements.
Enhanced Product Detail Page – Details and information about your product is focused properly on the the detail page. Below the product details, are the related products, so that customers can browse them directly. Everything is thought of strategically, so that the attraction of your store is Products, and not other things.
Instant setup with Auto Install – Once you activate this theme, you can auto-install pre-configured data with just one click. All relevant data – products, description, images, widgets, blog posts, pages and every element is set to their respective location. The theme adds this dummy content for you so you can easily locate them and edit them to your preferences.
Multiple Product Types – It can handle dropship, affiliate products, and donations also. And if you're a consultant, you can charge for your services.
Product Attributes – You can add product images and set product weight, colors, price, tax, and stock. You can also set different prices for different sizes, colors, etc. Along with default store product settings, add your own custom attribute.
Multiple Payment Gateways – You have PayPal, PayPal Pro, 2Checkout, Authorize.net, Google Checkout, WorldPay, bank transfer and Cash on Delivery as payment gateway options. Choose the gateway you prefer and configure it easily using the interface given, without any coding skills.
Shipping Options – Pick from four different shipping options. Ship by flat rate, free, priced based, and weight based. Product tax per state, country, or region is automatically calculated for total shipping cost. And, you can also add your own state, country, or region.
Manage Tax – You can specify percentage or flat amount of tax to apply on products. Plus if you wish to set different tax for different locations, then this can also be done.
Manage Affiliates – Your store comes with an integrated affiliate system to reward people interested in helping you sell your products. Use it to track sales, set how long affiliate cookies last, set commission percentage, and generate sales reports.
Design Settings – One the most asked for feature is a powerful and flexible design system and our framework doesn't disappoint. It's actually one of the features where the framework excels with flexible layouts, integrated SEO, change site layout and many more options.
User registration– Users may register on your site or, they will be taken to registration page for the checkout procedure. They will have their own user area where they can keep track of their order, manage profile and download purchased digital products.
Grid view / List view – Whenever you are browsing the product collection, you have an option to see the products in list view or grid view. It's built-in by default.
Bulk Upload – Theme includes built in Bulk upload functionality. If you have many products, then adding them manually one by one can be a slow task. Therefore, just download the Sample CSV, add data and upload it. This is a very fast way to add several products.
Order Management – From the admin panel, you can manage the order – approve, process or cancel / reject an order. Email would be automatically sent to the customer as per the status selected.
Email Notifications – Email notifications keep everyone up to date. You can have emails sent when someone places an order, when a payment has been approved or rejected, and/or when the entire order and payment process is successful.
Coupon Codes – Create coupon codes based on percentage or flat amount and use it for promotion. You can also delete it.
User registration – Users may register on your site or, they will be taken to registration page on the checkout procedure. They will have their own user area where they can keep track of their order, manage profile and download purchased digital products.
Blogging – You can have a full fledged Blog on your site, and its too easy to setup this section.
Fully customizable front page
Excellent Support
Theme Guide & Tutorials
PSD File Included with multiple use license
Drop Down menu
Gravatar Support & Threaded Comments
Built-in Ad Monetization
Built in Page Templates
Widget Ready with custom widgets
Valid, Cross browser compatible
Price
Single: $65
Multi Use: $99
Premium Themes Club: $299 (all themes) Recommended
Templatic offers a range of premium business / CMS, corporate, ecommerce, magazine / news, portal, portfolio, personal blog and other niche premium WordPress themes.