We are pleased to announce a very popular & professional Restaurant WordPress theme –  MyRestaurantTheme update to Version 2.0. This is a major update, with loads of new features and enhancements, Users updating are urged to replace all theme files, and read through the some important notes on upgrading.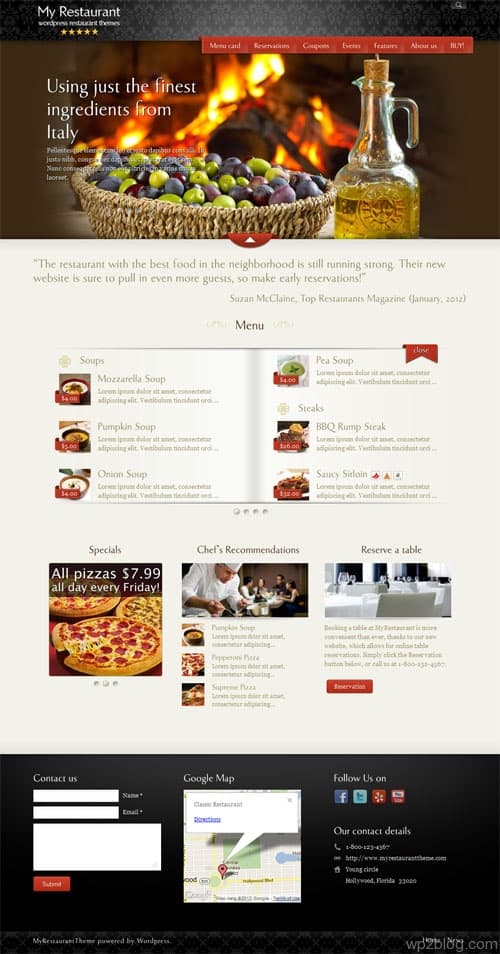 Price:
Hosted Restaurant Website Service: $0 + $34/month
WordPress Restaurant Theme: $149
Important notes on My Restaurant Theme V2.0 upgrading
V2.0 being a major overhaul of many areas of MyRestaurantTheme, updating is a bit trickier than usual. Here are the things you'll need to be mindful of.
1. You'll need to deactivate your existing MyRestaurantTheme before copying the new files onto your server. Deactivation is done by activating another theme. Once you've activated another theme, you can copy the new MyRestaurantTheme files, and reactivate V2.0.
2. They're using a brand new, advanced shopping cart, They weren't able to save all your existing settings, which means you'll need to redo the settings in a few areas of your site. But in return, you're getting a much more advanced website.
Here is a list of things you'll need to apply your settings to:
The price of every single food item
MyRestaurant > Store settings > Delivery hours
MyRestaurant > Store settings > Business hours hours
MyRestaurant > Store settings > Upsell/related items
MyRestaurant > Store settings > Reservation settings
MyRestaurant > Store settings > Coupon settings
Widgets may be lost (only on some installations)
3. There are also new settings to be found for the mobile version of your website, which require your attention:
MyRestaurant > Homepage settings > Mobile homepage
MyRestaurant > Homepage settings > Mobile homepage content editor
MyRestaurant > MyRestaurant settings > Mobile settings
4. A new major feature is the advanced shopping cart, which needs to be set up. Your existing shopping cart settings will be lost after the update, so make sure to attend to this as well, otherwise the online ordering system will not function:
MyRestaurant > Webshop settings
V2.0 Enhancements
New features
New shopping cart engine
Added order management system
Added price ribbon text size setting
Added options to enable shortcode generator on all content types
Added option to set Food Items per page on menu cards
Added option to turn on/off slide titles in slideshow shortcode
Added option to edit homepage menu title
Added mobile homepage menu card category selector
Added mobile custom homepage content editor
Added mobile logo display option in header
Added mobile search option
Bug fixes
Shopping cart fixes
Style fixes
Fixed Slides admin page showing thumbnails in 2 sizes
Fixed WP 3.4 upload "Cheatin uh?" bug
URLEncoded Facebook share URL
Fixed menu card pagination
Fixed menu card display, if no image, display price if needed