My Stream is a personal blog WordPress premium theme from WooThemes designed for your blogging, social media and lifestreaming activities. The flexible and customisable theme includes a social profiles widgetized zone, changeable background, 7 custom widgets, and 7 colour schemes.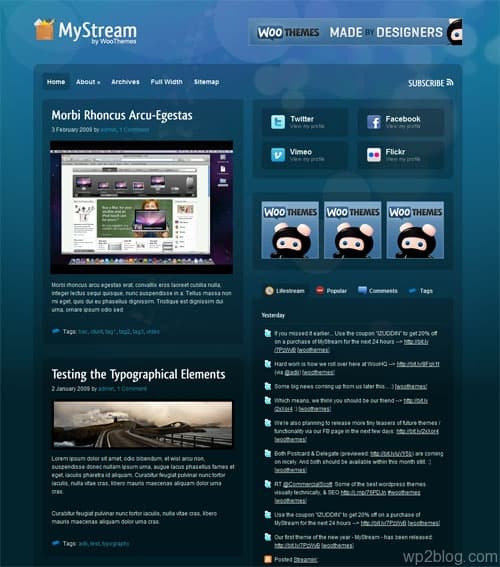 Features
A social profiles widgetized zone with custom widgets to display your Twitter, Facebook, Vimeo, Flickr, etc, profiles in the sidebar.
7 MyStream-specific widgets, including Tabber widget, which allows you to move the tabber anywhere in the sidebar.
Flexible 3 column layout with a variety of different widgetized spaces & layouts.
6 colour schemes
WooFramework2 with theme options panel
Drop down navigation menus
Backend theme options panel
Cross browser compatible
Auto-sizing thumbnails
Localized for translations
Custom page templates
Price:
Standard: $70
Developer: $150
There are permanent 3-for-1 & 4-for-1 offers, or get all 50+ themes in the WooThemes Club
Demo & Release Page | Download
Woo Themes have an excellent selection of high quality WordPress themes covering a wide variety of niches including: business, CMS, magazine & news, portfolio, photo lifestream, multimedia, personal and professional blog designs.