The News Theme have been upgraded to the V2.0 from Organic Themes. The News theme 2 cleaning up the code, design and adding a ton of new features. Some of these features include Ajax loaded content on the home page; color change options galore ; more featured videos and the addition of social media buttons. The addition of a top horizontal navigation menu instead of the previous sidebar navigation. New page templates, featured image banners for pages, a ton of options and much more.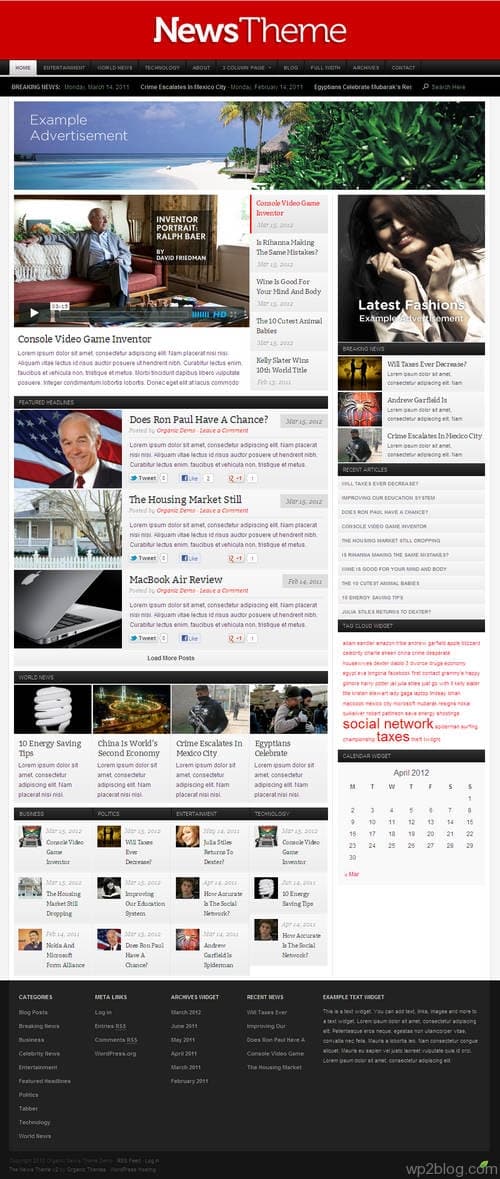 V2.0 New Features
Options Framework – The theme now integrates with the Options Framework plugin, which offers a sleek options interface.
Ajax Loaded Content – Additional posts can be loaded on to the home page with the click of a button without having to navigate to the next page.
Social Media Buttons – Facebook Like, Tweet and Google Plus buttons have been added to the home page as well as individual posts and pages.
Featured Content Tabber – The updated featured content tabber can display posts with a featured image or a featured video.
Featured Videos – The theme is now capable of displaying featured videos within the tabber, homepage posts, blog and individual posts.
Featured Image Banners – Featured images can now be added to pages and page templates to be displayed as a banner image for that particular page.
Numbered Pagination – The blog and category pagination is now much more accommodating — allowing you to skip ahead to specific page numbers.
Color Options – Included options for changing the link and highlight colors within the Options Framework — providing a greater array of customization options.
Original Features
Theme Options Page
Twitter Feed
Custom Header Options
Custom Background Options
Custom Menu Management
Featured Images (Post Thumbnails)
Featured Videos
News Ticker
Custom Page Templates
Portfolio Page Template
jQuery Featured Content Tabber
Widget Ready
Expanding Footer and Header Widgets
Photoshop Design File
Gravity Form Styling
Price
Single Theme: $69
All Organic Themes: $249 (Recommended)
Organic Themes have a stylish & modern selection of premium WordPress theme for different niches including: business, CMS, portfolio, magazine, personal and professional blogs