Options is the latest WordPress theme resulting from Justin Tadlock's innovative Community Theme Project. Options is a magazine / CMS theme which as the name implies is feature packed with just 'too many options to count'.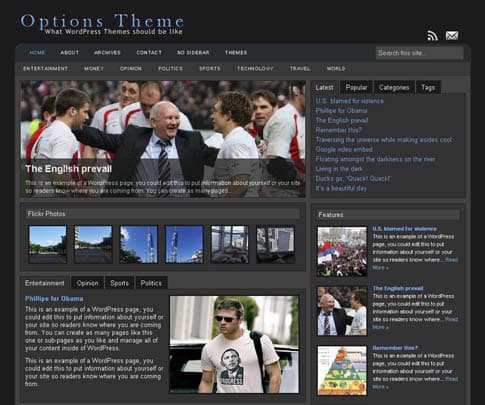 Features:
Stylesheets
This theme comes packaged with two different stylesheets, Dark and Light, which you can choose through the theme options page. There's also two customizable stylesheets.
Home page layout sections
There are five sections, or blocks, on the home page layout. From the theme options page, you can choose from 14 different options for each of the sections.
Five types of category sections.
Three types of features sections.
Two types of video sections.
Excerpts.
Full posts.
Tags.
Flickr photos.
Two customizable sections.
Sidebars
The theme includes customizable, widget-ready sidebars. There are quite a few pre-built widgets for your use.
Tabs widget (content of tabs is controlled through theme options).
Multiple ad widgets.
Tag cloud.
Flickr photos.
Recent posts.
"Asides," or sideblog.
Recent video by post.
Video non-posted.
Feed and email subscriptions.
Customizable widgets.
This is a version 1.0 beta release. The theme will continue to be updated, and more functions and styles will be added. As this is a community driven theme users can contribute to the development and evolution of the theme through the forums on the developers site.
Requirements: WordPress 2.3+
Release Date: 24 February 2008
Price: Free (Donations accepted)
Demo / Release Page & Download
Rate this theme:
[ratings]