Papercut is a grungy news style premium WordPress theme from WooTheme. The theme features a grungy, illustrative, paper-stained design, with an underlying pixel perfect grid structure. Papercut is easily customisable with built in widgets, and layout control via a theme options page. The theme package also includes 5 different colour schemes which can be easily changed from the Theme Options backend.
Home Page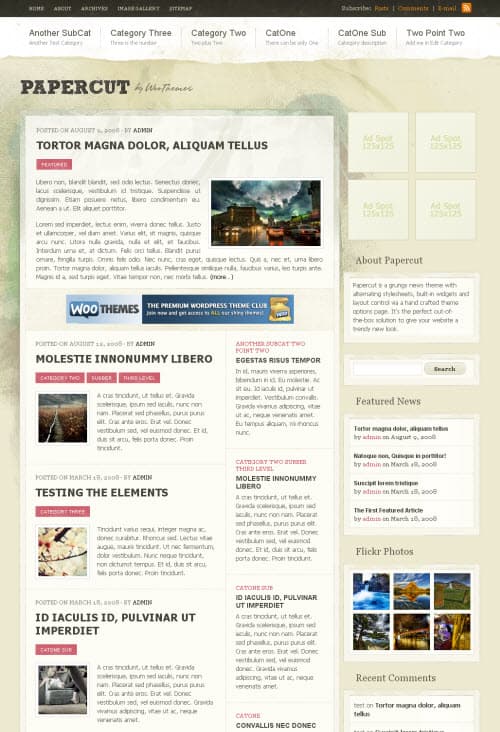 Gallery Page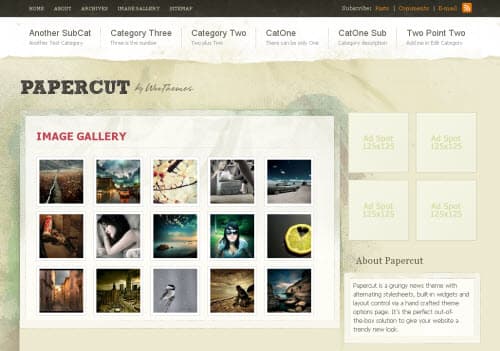 Features:
Five eye-catching theme styles to pick from that include the default, newspaper, red print, wood and floral prints.
An unique homepage layout, with a beautiful grid structure that keeps your content looking fresh and appealing.
Beautiful comment styling and unobtrusive advertising banner placements.
A completely widgetized sidebar with custom widgets included in the theme packaging. No third party widgets required.
Integrated Banner Management widget to display banner ads of your choice site-wide;
Integrated Theme Options (for WordPress) to tweak the layout, colour scheme etc. for the theme;
Automatic Image Resizer, which is used to dynamically create the thumbnails and featured images;
Custom Page Templates for Archives, Sitemap & Image Gallery;
Built-in Gravatar Support for Authors & Comments;
Integrated Banner Management script to display randomized banner ads of your choice site-wide;
Price:
Single User Licence: $70
Developer License: $150
You can purchase the Papercut theme as an individual licence or join the WooThemes Club to access all current and future themes from Woo Themes.
Demo & Release Page | Purchase
Rate this theme:
[ratings]