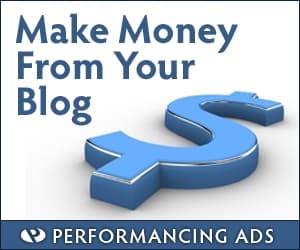 In the last week a new advertising network specifically for bloggers has launched – Performancing Ads.
PerformancingAds is an ad marketplace for the 125×125 pixel banner ads, which has slowly become the format of choice for bloggers.
If Adsense is only making you peanuts each month and you've been wanting to try selling 125×125 ads on your blog directly but didn't know how, then Performacing Ads can help you.
Here are the details:
125 x 125 ads
The ads are based on the popular 125 x 125 pixel banner ads that you see on many blogs
Open to all publishers
Performacing accepts popular, well-established blogs as well upcoming blogs. If you have a blog or website and want to feature 125×125 ads on your site, you can join PerformancingAds.
Self service system
Performancing Ads is a self service system where advertisers sign up, submit ads and pay for them all via Performancing and then they send you your share of the revenue at the same time each month. Publishers are put into a Marketplace where your blog will be shown to prospective advertisers looking for blogs to advertise on.
Create and book your own ads
In addition to selling ads, all blog publishers can book their own 125×125 ads for free. You can use PerformancingAds to promote affiliate offers on your site or promote key parts of your site.
Expose your site to more advertisers
Advertisers buy in 1 week increments, so it lowers the thresold for advertiser entry, increasing the number of advertisers in the system, and ultimately making you more money.
Free ad space through our publisher exchange program
All publishers in our ad network earn credits either by A) selling ads or B) showing other publisher ads in empty spots. Credits are then spent by getting free ad space on similar sites. It's a win-win situation. Everyone gets more exposure.
Revenue share
You earn a minimum of 60% of what the ads sell for – Performancing takes the other 40%. This will be tiered up as high as 90% for publishers for 'better performing publishers'.
You remain in control
You have control over where the ads appear, how many are shown and even some control over how they look. You can also create multiple regions on your blog so have the ads appear in multiple positions. Its also possible to filter out ads you don't want to appear by adding words for keywords and/or domains that you don't want advertisers from. You also have control over what ads are priced at. You can also set ads to be no-follow ads.
Get paid quickly
You get paid on the 1st of the month immediately following the advertisers' purchase. No waiting for 30 or 60 days.
WordPress plugin
There is a WordPress Plugin to help manage Performacing Ads if you're a WP user.
Performancing Ads is a new network and might take a little while to get into full swing but it's defiantly worth signing up and checking it out to see how it works for your blog. Go here to find out more details and sign up.
Advertise on Blogs
If you're looking to advertise on blogs then Performacing Ads is defiantly worth checking out also, as the network is still new providing plenty of cheap advertising opportunities. Performancing is looking for new advertisers and currently offering $25 off your first ad purchase of $100 or more.