[Updated: 22 September, 2011]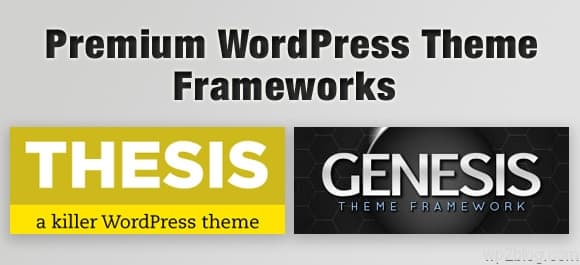 Premium WordPress theme frameworks are powerful theme systems with a lot of in-built features and functionality that make it easy for anyone to built a professional, customized blog or website. These WordPress template frameworks offer a huge amount of built-in control and flexibility allowing you to create many different styles and layouts, and easily customize the template to build a professional and unique looking website. These theme frameworks are for users of all levels.
Below are the best premium WordPress theme frameworks available. A simple screen shot of the basic homepage of these themes often does not do them justice, becase they have a lot of features, functions and layout options that can't be fully shown here. So try the demos, watch the videos, and read the detailed features on the release pages to fully appreciate these premium theme frameworks.
Platform Pro WordPress Theme Framework
Platform Pro is a drag and drop WordPress theme framework from PageLines. The professional theme framework helps you built a custom WordPress site quickly and easily with drag and drop layout and content. Platform Pro features include BuddyPress and bbPress integration, child theme support, magazine & blog layout modes, full-width and fixed-width designs, advanced fonts, and ajax image uploading. The Section API gives drag and drop website control with layout builder options, drag & drop post types (feature slides, boxes, banners etc) and tons of comprehensive page by page options.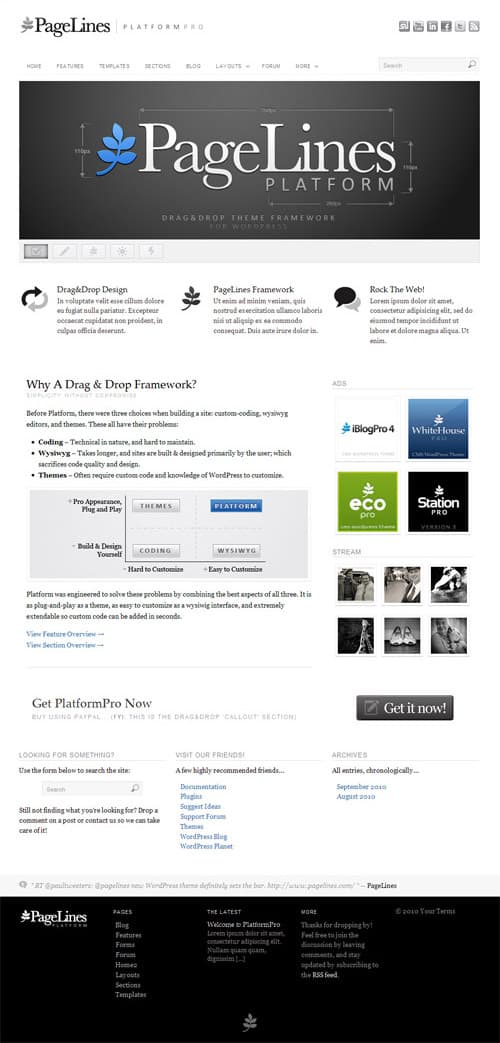 Drag and Drop Layout Editor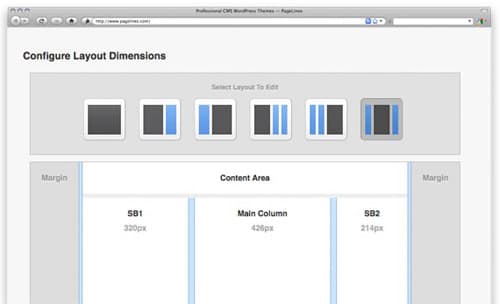 Fixed Width Magazine Layout Example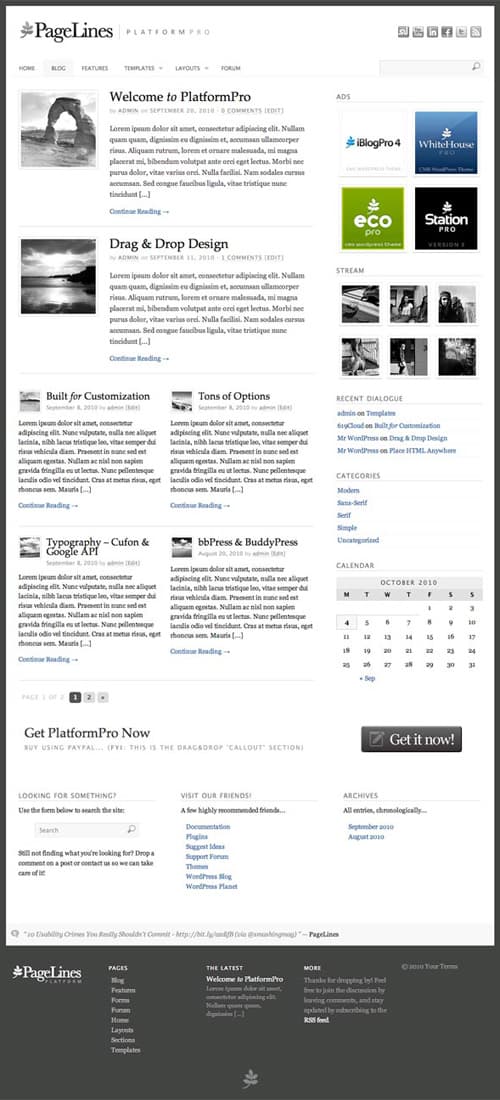 Features
Drag & Drop Design Control – Create and customize your site by dragging and dropping 'sections' of content around your theme
Design Modes – Choose from tons of design modes such as: magazine or blog layout; full-width or fixed-width site design
Layout Builder – drag & drop layout dimensions and configure each of 5 different sidebar layout options on a page / post basis
Sections – allow you to drag and drop pre-designed modules of HTML, Javascript and other code on your site (similar to widgets)

Plug-andPlay Sections – pre-designed pieces of web design (e.g. a feature slider, navigation, carousel, etc..) managed by the section API; so all you ever see is a simple drag and drop interface and options
Controls – Sections can be toggled on or off on a page-by-page basis and add their own post-types and options. This means total control of every page on your site
Performance – Sections load their code (eg, Javascript), only on pages where they are used and according to best-practices, greatly improving performance
Development – Can be created and modified by designers in the Base child theme, meaning designers can add or alter the drag & drop sections in seconds
Simple – Sections add standard html markup and custom hooks (for extending functionality). Cutting down on a lot of code while giving more functionality at the same time

Meta Options – Customize everything on a page-by-page basis through meta options. For example, the number of boxes, items in a carousel, custom images, and more…
bbPress and BuddyPress Integrated – supports integrations with BuddyPress and has a matching bbPress forum theme (developer edition)
Child Theme Support – to help you customize Platform easily and with best-practices for building a website using "hooks" and custom CSS
Advanded Fonts – Platform allows you to integrate the Google fonts API or Cufon based fonts in seconds
Forms and Ajax Uploading
SEO Tuned – Tuned code for optimal search engine performance and accessibility. Works with all major SEO meta plugins
WordPress 3.0+ supports the coolest new WP features like custom post types, menus, and custom 'taxonomies' (i.e. custom categorizing)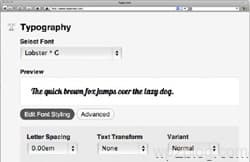 Web Typography Tool

Choose from over 50 font options (including Google API Fonts)
Select font weight, styling, spacing, transform (e.g. uppercase) and variant (e.g. small-caps)
Preview your custom typefaces live, using the live preview panel

Try the theme demo and watch the tour video for more details
Price
Platform Pro: $95
Platform Pro Developer: $175
Demo & Release Page | Download
Genesis WordPress Theme Framework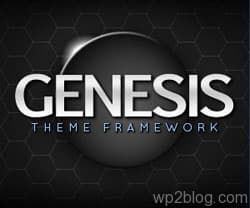 Genesis is an advanced WordPress theme framework from StudioPress. The Genesis Theme Framework is essentially a core WordPress theme with a considerable amount of inbuilt options and features which can be extended further with the use of child themes.
Why a theme framework? There are numerous benefits to using a framework such as Genesis for your website including: building on a solid core theme with quality code that includes a lot of inbuilt functionality which is continually being updated and improved, plus easier customisation that doesn't break when new core theme updates are applied.
Core Theme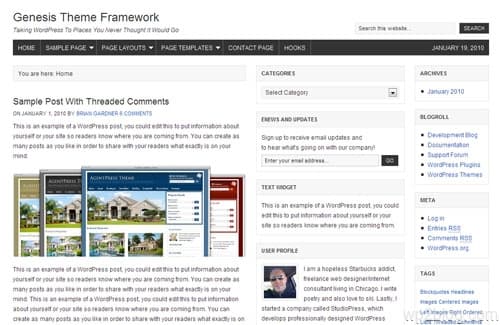 Genesis Theme Settings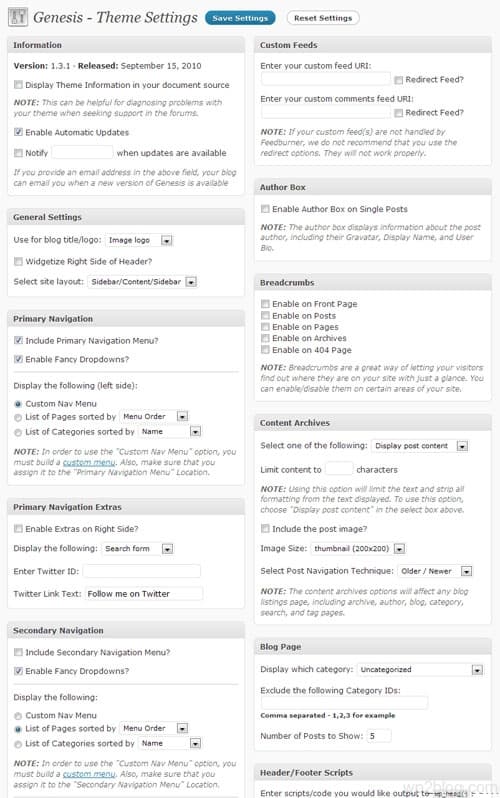 Genesis SEO Options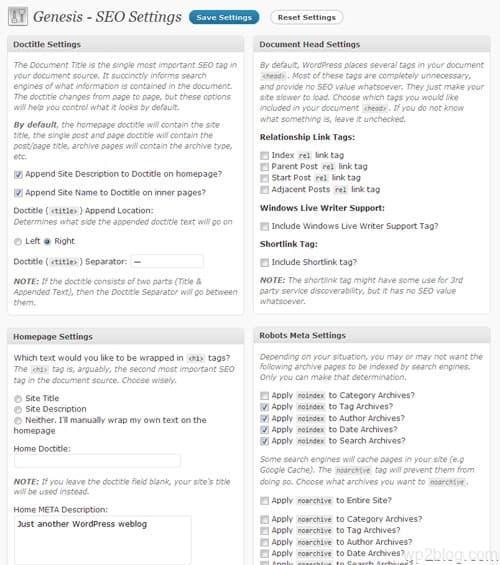 Post / Page Layout Options


There are a variety of pre-built child themes available for the Genesis Theme Framework like the ones below.
Enterprise Child Theme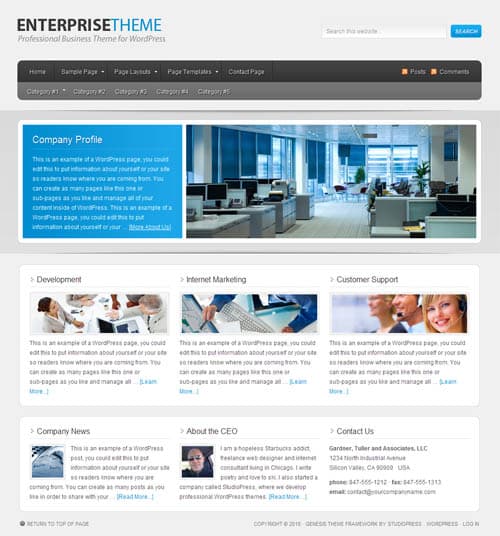 Mocha Child Theme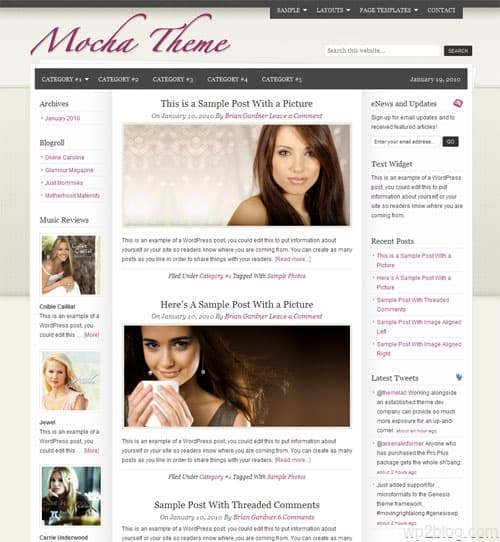 Executive Child Theme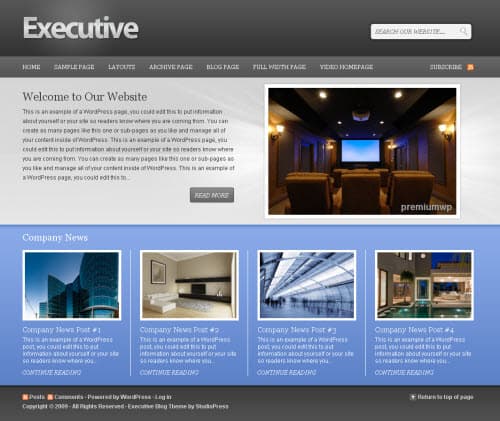 Going Green Child Theme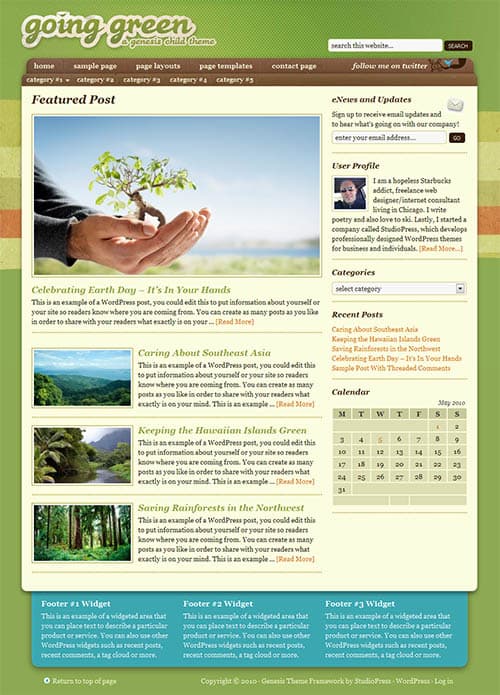 Genesis Framework Features
Automatic Updates – easy upgrade similar to the way that WordPress itself (and plugins) are handled
6 Layout Options – selectable site wide or for individual post/page
Theme Setting Panels – many settings that let you fine-tune the way your site looks
Custom Hooks (40+) – a hook is a piece of code written into the theme that allows you to attach additional content to the theme itself
Custom Widgets (MyTweets, User Profile, eNews & Updates, Featured Posts, Featured Pages)
Import / Export Settings – the Genesis Theme and SEO settings are completely portable, so you can back up, restore, and transfer settings from one install to another
User Control System – allows admin to turn on/off theme settings, layouts and SEO option availability for users on a per user basis
Author Box – display per page option
Register / Unregister Layouts
Dynamic Text / Image Logo option
Navigation menu controls
Drop down navigation menu
Post Thumbnails
Custom Widgets
Search Engine Optimised
SEO Options (site wide and individual page/post controls)
Post and Page Tracking/Conversion Code box
Widget-Ready
Breadcrumb navigation
Integrated Blog
BuddyPress Compatibility
Developed for Localization
Prices:
Genesis Theme Framework Package: $59.95
Child Themes: $24.95
Pro Plus All-Theme Package: $249.95 (best value)
Demo & Release Page | Download
WP-DaVinci
A simple, efficient and flexible premium WordPress theme framework from Solostream. The framework is loaded with smart features and designed to be a flexible foundation to speed up theme development and making it easy to create a custom personal blog, business site or online magazine website.

Features
Multiple Page / Post Layout Options – 7 different layouts including 2-column, 3-column and full-width layouts, selection on site wide or per-post or per-page basis
3 Featured Content Options – a featured article slider, a featured videos slider and a photo galleries slider
Banner Ad Integration and Management – several built-in banner ad sections and options for specific post / page advertisements.
4 Built-In Styles – with setting to easy modify: body background, body font and link colour, logo, navigation bar background colour and link, post title font and link colour etc.
WordPress 3.0+ Compatible (Including Menu Management)
2-Column or 3-Column Layout
Widgetized Sidebar
Drop-Down Navigation
Theme Settings Page for Easy Customization
YouTube Videos Widget
Category Posts Widget
Subscription Form Widget with Social Networking Integration
Footer Widgets
Narrow and Wide Featured Articles Slider
Optional Photo Galleries Slider on Home Page
Optional Featured Videos Slider on Home Page
Quick and Easy Logo Integration
Multiple Home Page Post Layouts
Threaded Comments
Gravatar Integration
Post Thumbnails
Built-In Author Page
Price: Solostream Membership: from $59 (access to all themes)
Demo & Release Page | Download
Thesis Theme
Thesis is a powerful, high quality WordPress master framework that makes it easy for anyone to run a professional, customized blog or website. In addition to excelling at critical tasks like SEO, site speed, and layout flexibility, Thesis comes with one of the most comprehensive Option Panels that allows you to easily control and customize almost every aspect of the framework with ease. You can select the font style and sizes, colours for most elements, the number of columns (1, 2 or 3 columns), the order of those columns and the exact width of each individual column – all without having to dig into the pages of code. Thesis also boats the strongest SEO of any WordPress theme. Some well know internet personalities and SEO "gurus" use Thesis.
If you think the base Thesis layout pictured above looks a bit minimalist and basic, you're right, but check out some of the awesome Thesis customizations here.
Thesis Design Options Page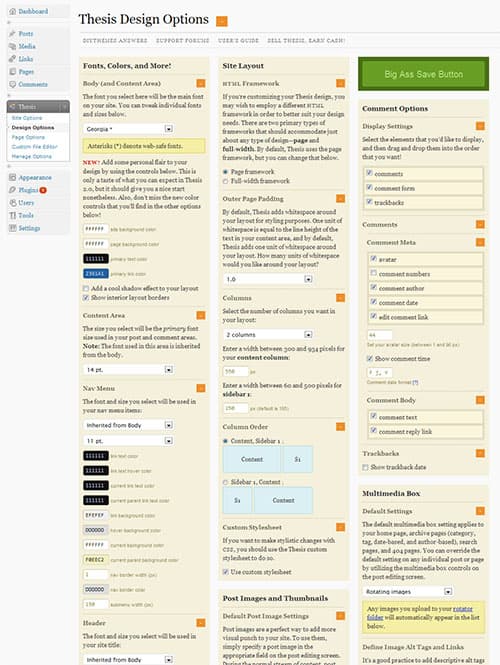 Key Features
Thesis Options Panel – one of the most comprehensive theme options panel in a premium WordPress theme. Allows you to easily control and customise almost any aspect of the framework with ease. You can customise everything including, font styles, colours what you want to appear in the navigation menu, page titles, your RSS feed, what meta data shows on your post / page, how your archive page shows up etc.
Layout Options – Thesis gives you a multitude of column and width options to choose from. You can select the number of columns (1, 2 or 3 columns), the order of those columns and the exact width of each individual column – all without having to dig into the pages of code.
Features and Teasers – Thesis gives you an option called 'features and teasers' that allows you to have a front page that is more of a magazine style showing featured posts and short excerpts of other posts with thumbnails.
Colour Control – Thesis allows you change the colour of virtually every element of theme. Easy change text, border, link, background colours etc.
Automatic Thumbnail Generation – Thesis will automatically resize pictures and generate thumbnails for your posts.
No coding experience required – The Thesis option panels allow you to command your site with ease without requiring detailed knowledge of HTML, PHP or CSS.
Future Proof Customization System – Allows modifications with a custom style sheet meaning you can modify your theme and protect it against any future upgrades.
Less Plug-ins Required – some of the capabilities that you would normally use plug-ins for are built into the theme. For example SEO options, Google analytics or other header and footer code, navigation menu options etc can all be managed in the theme options panel.
Pixel Perfect Typography – Thesis has polished typography with finely-tuned geometrics for maximum legibility. You can select what type, and size, of font you want in all the different sections of the theme.
Hooks – Thesis has a custom hook architecture that allows you to add to, subtract from or modify the functionality of your Thesis installation. It allows you to isolate all of your custom changes to just two key files. This makes your Thesis installation easy to customize, and easy to upgrade.
Rich Style Classes – Thesis features built in classes to help you make important content stand out, and add some pizzazz to your site. You can add a drop-cap, alert box, a note box, or even wrap text around adsense ads etc.
Customisable Multimedia Box – Thesis includes an optional fully customizable multimedia box which can be used for rotating random images, video, advertising or your own custom code.
Search Engine Optimization – Thesis boasts the strongest SEO of any theme on the market today thanks to its expertly-coded HTML + CSS + PHP framework.
Support – Access to documentation and a great support forum managed by talented and helpful staff
Continuous Improvement – Thesis is continually being upgraded and improved and new featured added. When you purchase thesis you get access to lifetime updates.
Much More – read about all Thesis features here
Price: Personal: $87, Developer: $164
Demo & Release Page | Download
Xtreme One WordPress Theme Framework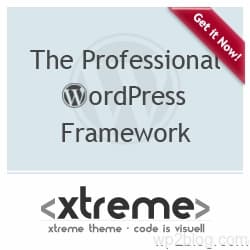 Xtreme One is a flexible and professional WordPress theme framework that gives you the freedom to easily create your own custom WordPress theme.
The xTreme One Theme Framework includes a Layout Manager that lets you create layouts for any template including sidebars and allows solid, fluid and flexible widths with up to 5 columns. Other features include 12 custom widgets, a customisable comment form layout, SEO options, lean semantic code, support for WP 3.0+ features and more. See the child theme examples below which illustrate the extensive design flexibility of the framework.
Features
Layout Manager – allows you to create your own layout for any template, include sidebars and turn a container on or off
Adjustable Layout Width – allows solid, fluid and flexible layouts
6 Content Area Layout Versions – with customizable width in %, em or px
Teaser and Footer Areas
Able to add teaser and footer with dynamical created widget areas in 28 layout variations and up to 5 columns
Free Positional Navigations with 4 different stylesheets for WP Menus, page or categories
WP menus in 4 different styles
3 comment form layouts, additional text fields, adjustable avatar size and alignment
Gravatar support and additional text fields for individual messages
12 Custom Widgets

Accessible, printable Tabber for your posts
3 different slider widgets
5 different post/page widgets
Social links widget
Lastest tweets widget
Newsletter widget

Search engine friendly, lean, semantic and valid code
Combining of stylesheets and stylesheet compression
Multisite, Widget and Localization ready
WP 3.0+ Support – featured images, background images, and WordPress 3.0 menus
Extensive documentation, support forum, knowledgebase, free updates
Child Themes
There are also a number of child themes available for the Xtreme One WordPress Framework. The framework provides extensive design flexibility. Two out of a multitude of possible layout options for each child theme are shown below:
Draft Child Theme
A flexible, unique design ideal for graphic designers, architects, or as a portfolio and of course bloggers.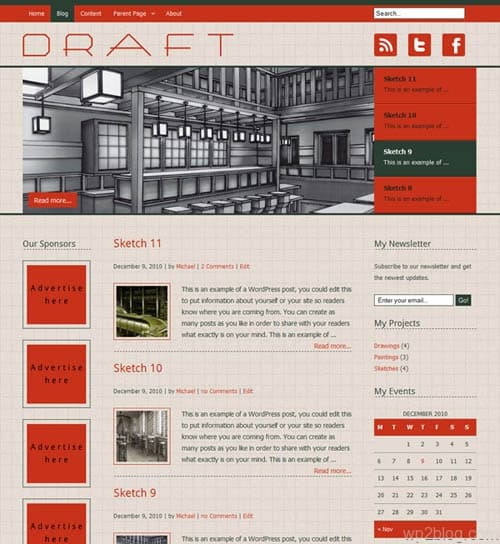 Price: $19.95
Demo & Release Page | Download
Indoor Child Theme
The Indoor Child Theme is ideal for business or corporate websites to display products or services.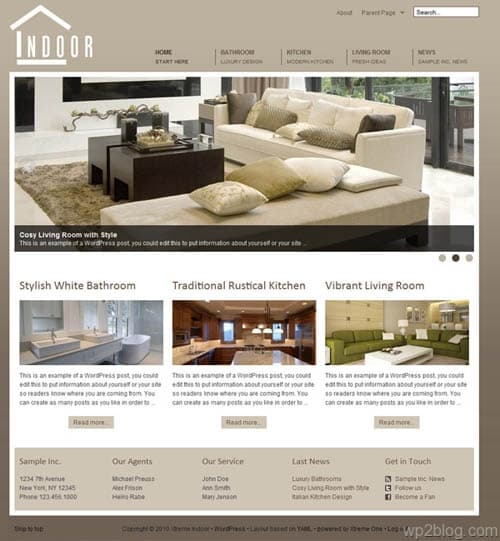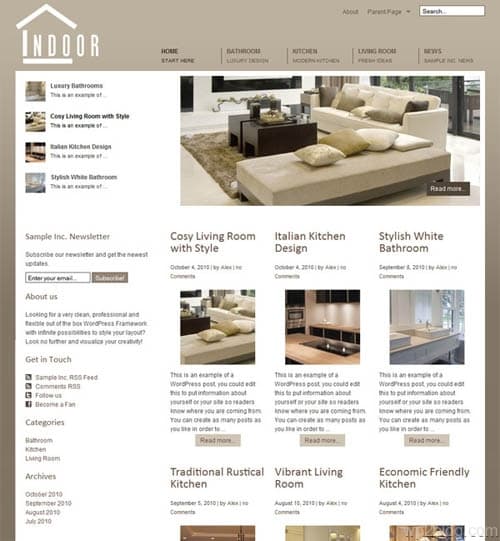 Price: $19.95
Demo & Release Page | Download
Minimalist Child Theme
A clean minimalist theme for professional blogs and portfolios designed to focus on your content.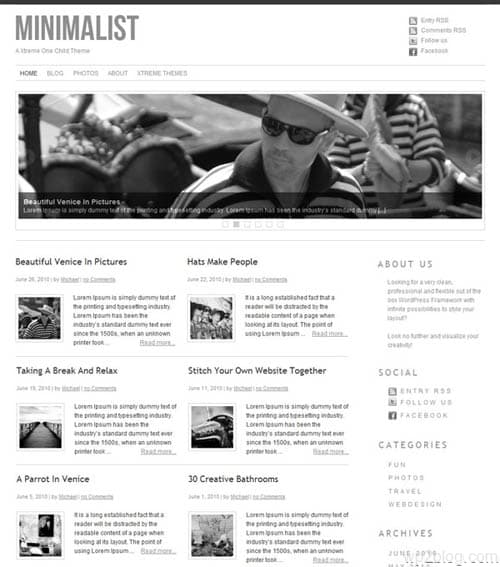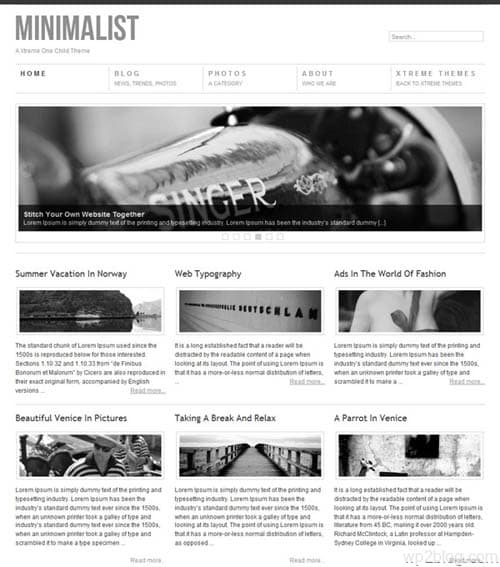 Price: $19.95
Demo & Release Page | Download
Xtreme One Framework Price: $79.95
Demo & Release Page | Download
Catalyst Theme Framework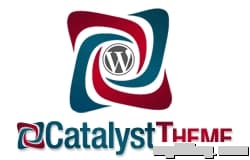 Catalyst Theme is a feature packed, extremely powerful WordPress theme framework. The Catalyst theme framework makes a solid website development tool that gives you amazing flexibility with unlimited custom layouts, custom widgets and hook boxes that you can mix and match to build any page structure you desire. The Catalyst theme package includes 22 custom skins, and the Dynamik Child Theme provide 600+ no-coding design options giving a crazy amount of design control. Other features include a custom CSS building tool that writes CSS code for you, 1 click child theme creator, comprehensive font control, a full set of SEO options plus lots more.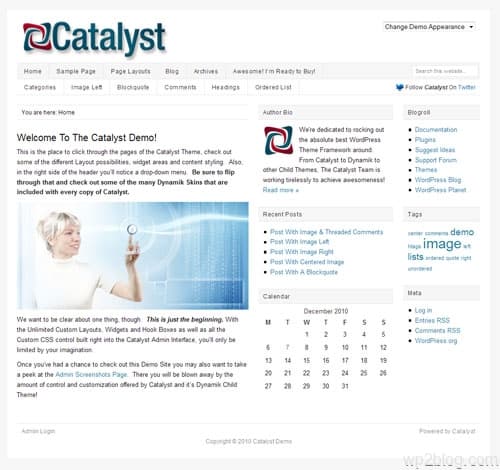 Example Skins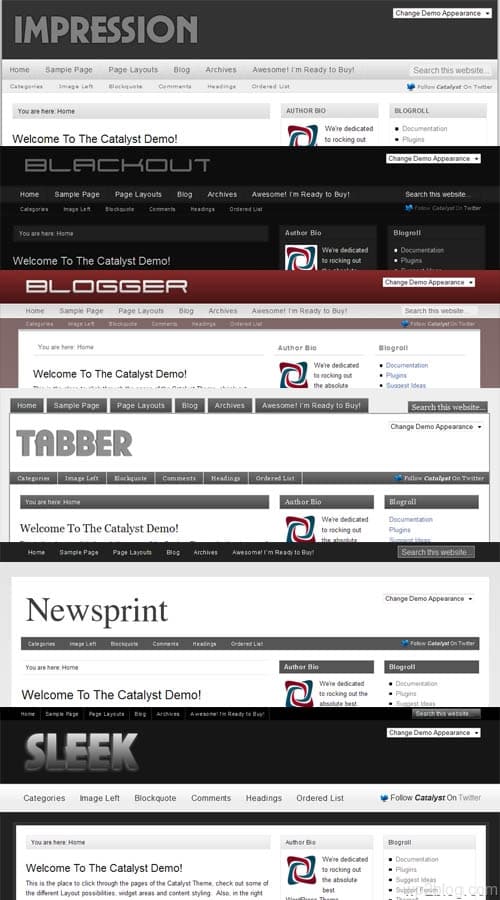 Example Theme Options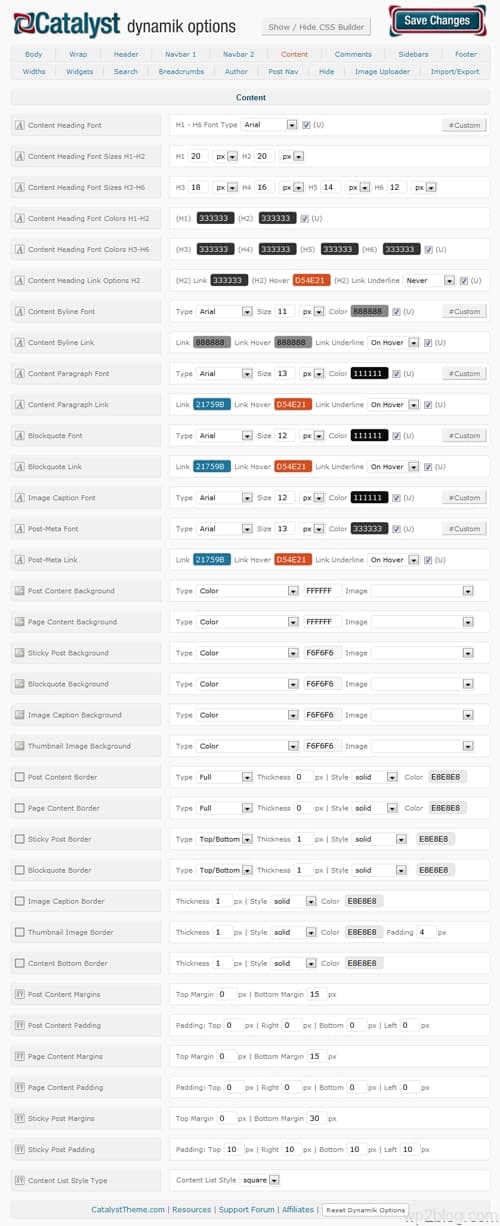 Features
Unlimited custom layouts, widgets & hook boxes provide amazing flexibility
Included dynamik child theme provides over 600 no-coding design options
22 included custom skins
Create your own custom child themes with a single mouse click
Custom CSS building tool that writes custom code for you!
Comprehensive font control – fully integrated with the Google Font Directory API, and third-party fonts services such as TypeKit
Full set of SEO options – with in-post / in-page & homepage title, description, keyword & meta control along with clean code
Fast, efficient, HTML5 & CSS3 validating code
Auto-Update feature
Image uploader built into the dynamic child theme
Page templates from powerful to simply essential
Full Import/Export of ALL your catalyst and dynamic options
Built-In custom widgets: excerpt widget, author bio widget, ad widget and a PHP text widget
Easily add your own custom Favicon & Avatar to your site
Fully compatible with WordPress MU (multi-site)
Comprehensive documentation that's built right into the theme options
A pure framework filled with hooks & filters galore
And a heap of other things you have to buy Catalyst to find out about!
Price
Personal Edition: $97
Developer Edition: $174
Demo & Release Page | Download
Canvas
Canvas can be used as a clean and minimalistic WordPress theme or a fully featured theme framework. It has a huge amount of backend design control (90+ options) that allow you to easily customise every element of the theme to make the design, layout & typography exactly as you want. It also includes 5 different site width options, 6 layout options for the content/sidebars, custom widgets, custom navigation builder, and a child theme friendly structure with custom hooks to easily customise the theme via the use of child themes.
Layout Options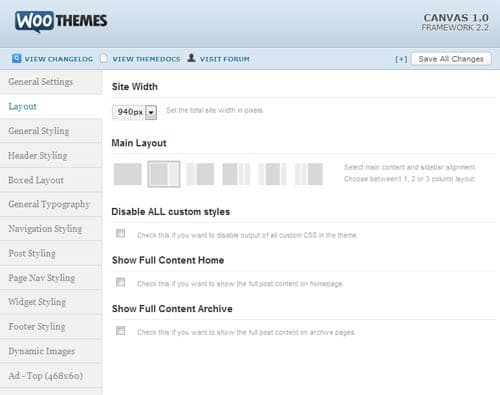 General Styling Options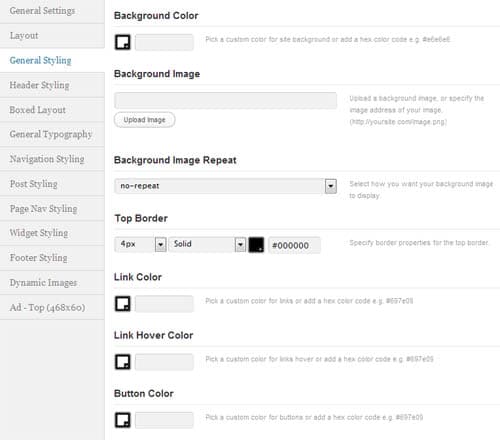 Custom Navigation (drag and drop customisation)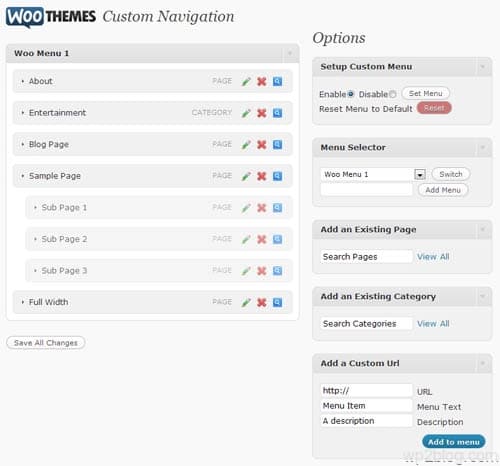 Features
Customize any element – 90+ options to tweak colours, borders, font-sizes, font-families etc
Upload background & header imagery via the backend
Easy change site width – easily change between 5 different site widths (980, 960, 940, 880 and 760 pixels) and also an option to box your layout in.
6 Layout Options – choose between 6 different layouts for and order of content/sidebars (full width, 2 col left, 2 col right, 3 col left, 3 col middle, 3 col right). Canvas also lets you specify individual layouts per post or page
Custom Widgets – Tabs, Flickr, Twitter, Adspace, Search etc
Child Theme Friendly – custom hooks makes it a lot easier to customize the theme via a child theme without touching any code in the main parent theme
Custom Navigation – allowing you full customization over how your navigation should be structured
Backend options panel – make simple changes without editing code, like adding your own logo, changing to an alternate colour style, adding Google Analytics code
Cross browser compatible
Auto-sizing thumbnails
Localized for translations
Custom page templates
Price: Standard: $70, Developer: $150
Demo & Release Page | Download
Headway WordPress Theme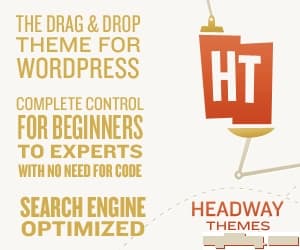 Headway is a flexible and powerful premium WordPress theme framework that gives you total control of your websites design with its intuitive drag and drop layout creator. Headway has over 700 code free options and features and its exclusive Visual Layout Editor gives you a true "what you see is what you get" designing experience. The Headway theme allows you to create any layout and website imaginable from a standard blog, to landing pages, to membership sites, business or ecommerce websites.
Other features include a Quick Start Wizard that guides you smoothly through the set up and design process, extensive style editor, automatic colour scheme generator based on the header image, built in SEO options and much more.
Key Features
Visual Layout Editor – allows you to design your blog visually by giving you the power to create and rearrange the layout without touching a line of code. Lets you to build your site live and see the changes take place right on the page you are working on.

Create Any Layout Imaginable – using the Headway Visual Editor, you can do anything from a standard blog, to landing pages, to membership sites, to e-commerce sites
Quick Start Wizard – The wizard will guide you step-by-step through choosing your layout, uploading your header image, building your site's color scheme (it'll even detect colors from your header image!), and selecting fonts. At the end, you'll click a button to build your site and it'll all be done in a snap!
Styles and Design Editor – allows you to fine-tune the visual design elements in the theme. Properties you can control on selected elements include: colours, font / typeface, font size, line height, font styling, capitalisation, text alignment, letter spacing etc.
Layout Editor –gives you unprecedented control over the visual placement and dimensions of page content with drag and drop control of content boxes. You get to decide what goes into the box, where the box goes on the page, and how big the box is.
Column System – allows you to arrange and resize columns. Select 1 to 4 columns and easily adjust each column width
Header Panel – easily customise the header properties and location with drag and drop ease
Customizable navigation, footer and body
Site Dimensions Panel – allows you to easily adjust certain dimensions of your site. With a built in slider, you can first adjust Wrapper width, vertical margins and even have rounders corners
Easy Hooks and Filters – lets you insert custom content at will wherever you like on any page without messing with PHP or CSS

Configuration Panel – gives you complete control of the settings that are behind the scenes. Add universal analytics or opt-in form scripts, set detailed options for post meta information (publication dates, author, etc.), integrate FeedBurner, add a favicon, and much more
Search Engine Optimisation (SEO) – complete set of search engine optimization features without needing any additional plugins. You can manage various kinds of page titles, description meta tags, nofollow settings, noindex settings, breadcrumbs and more to boost your search engine rankings
Automatic Upgrades – upgrade straight from within your WordPress admin
WordPress Multi-site Support WPML compatibility
Friendly and Helpful Support Community
Tutorials and Documentation in Plain English
Price
Personal: $87
Developer: $164
Demo & Release Page | Download
Elemental
Elemental is a full featured premium WordPress theme framework. The Elemental theme framework is supremely functional, giving you everything you need out of the box to build amazing websites. Elemental includes a comprehensive control panel to manage your website, 12 custom page templates, 11 custom widget areas, lots of filters & action hooks, automatic thumbnail resizing and much more.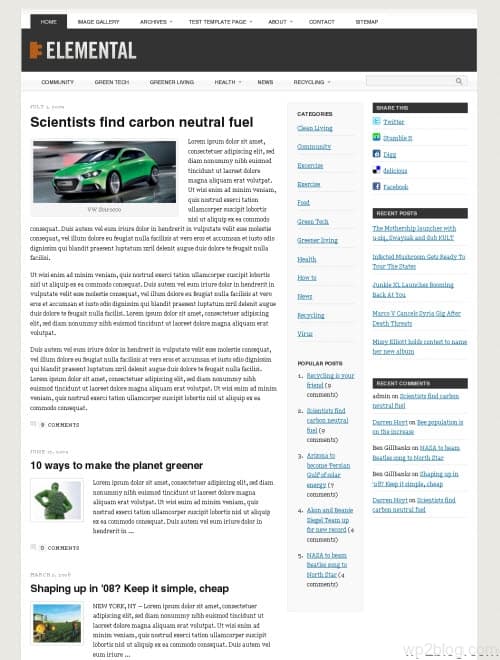 Features
Comprehensive Control Panel – allows you to change every aspect of your website with ease
12 Custom Page Templates which let you create contact forms, sitemaps, image galleries, blogrolls and more
11 custom widgets
Stacks of Filters and Actions to increase child theme customisation potential
Complete breadcrumbs support, site wide
Auto-resizing thumbnails, and the ability to automatically grab thumbnail images from the post content (custom fields not required!)
A built in contact form with user definable email address, messages, and CAPTCHA to reduce spam
Support for the WP125 advertising plugin for full control of the adverts on running on the blog
Elegant, animated, multi-level dropdown menus for pages and categories
Code to prevent content redundancy across the site – no 2 posts will appear simultaneously
Print-friendly options on single-post pages
Four widgetized regions with optional advertising
Support for gravatars, author comment highlighting, threaded comments and paged comments
Full WordPress MU support
SEO optimized
Print.css stylesheet
Access to 1 to 1 support
Price:
Basic License: $59.99
Developer: $149.99
Demo & Release Page | Download
Builder
The Builder theme from iThemes is a powerful and flexible tool to build WordPress themes. Builder allows you to create a website with multiple layouts, widget areas and individual looks on the fly thanks to its powerful Layout Editor. With Builder you can create different layouts for each type of WordPress view (e.g. create specific layouts for blogs, pages, posts, even categories), plus you can even create multiple custom layouts for specific posts or pages. Take the video tour of Builder to fully experience the power of this tool.
Key Features & Benefits
One theme for almost every project
Build almost any kind of new layout or page template you want in minutes (without knowing code)
Use one theme to build a website with multiple layouts and individual looks for each (each layout can have its own CSS)
Assign specific layouts to certain WordPress views (create specific layouts for blogs, pages, posts, even categories)
Create new widgets areas layouts or sidebars on the fly
Have special landing pages, squeeze pages, email opt in pages, feed pages, portfolio pages – in ONE theme!
Navigation Menu Builder – select which pages and categories you would like to include in menus
Integrated Billboard advertisement management module
Builder Layout Editor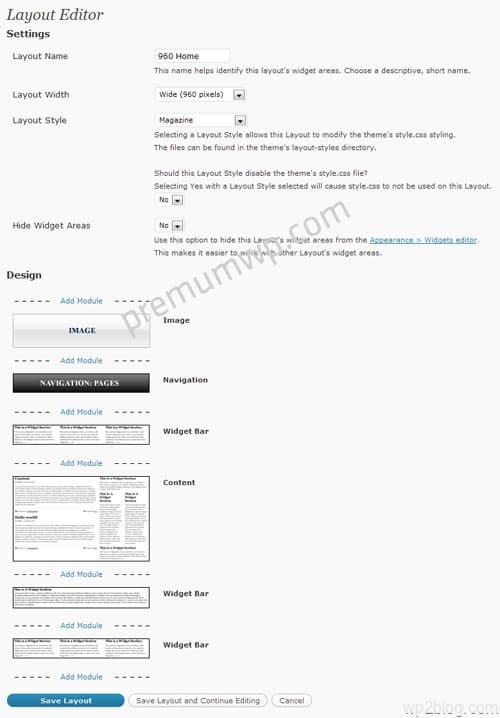 Example Layouts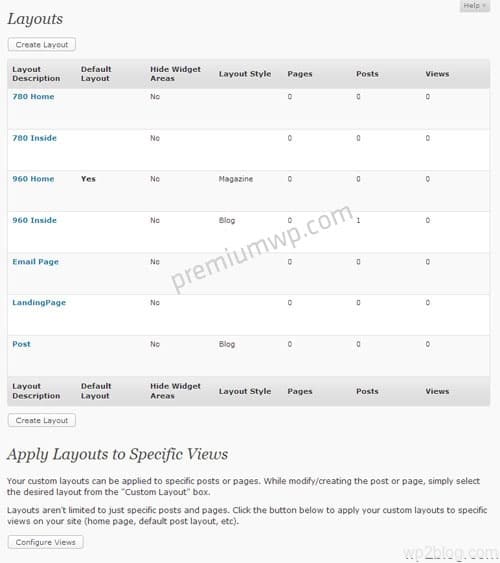 Price: Builder Theme Core – $127
Demo & Release Page | Download
RichWP Theme Framework
A premium WordPress web design system from RichWP. The RichWP Theme Framework is a fast, powerful, yet easy to use WordPress website development tool that gives you full control over your design and layout. The Framework comes with 15 design presents (such as minimal4), and a range of child themes are also available to extend the functionality and layout possibilities to easily create unique and professional blogs, magazines, portfolios, galleries, business or affiliate Web sites.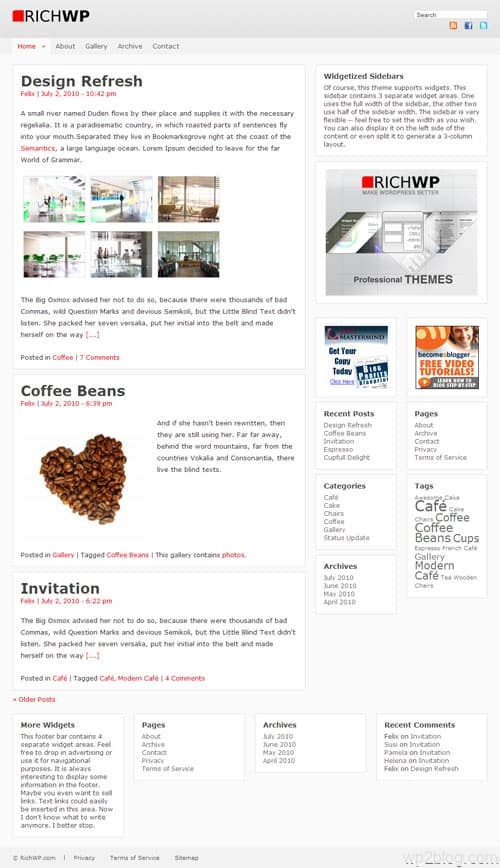 Features
Extensive Design Editor & Design Presets (ready to use designs) – lets you customize your design exactly how you want it, no programming skills required
Extended Typography Settings
SEO-friendly, performance-driven architecture & SEO Options
Enhanced Image Gallery (probably the best WordPress gallery system available)
Integrated Advertising Placements
Easy Logo & Social Media Icon Integration
Extensive Set of Page Templates (sitemap, full-width, slideshow, iframe integration, etc.)
Analytics & Feedburner Integration
Comment Rules
Child Theme Support
Theme Option Settings Backup
World-Class Built In Caching System
Comprehensive Manual & Documentation
Fast, Responsive One-on-One Support
No Usage Restrictions
WordPress 3.1+ Ready
WordPress 3.0 + Multisite Support
Works in All Major Browsers (including most mobile browsers)
Price: RichWP Theme Framework $127