Productum is a stylish business premium WordPress theme from Woo Themes designed to help market your products or services. The theme features a widgetized custom home page that makes good use of prime real estate, a clever image switcher that stylishly advertises your latest offerings, a feature rich theme options panel, and 11 great colour schemes.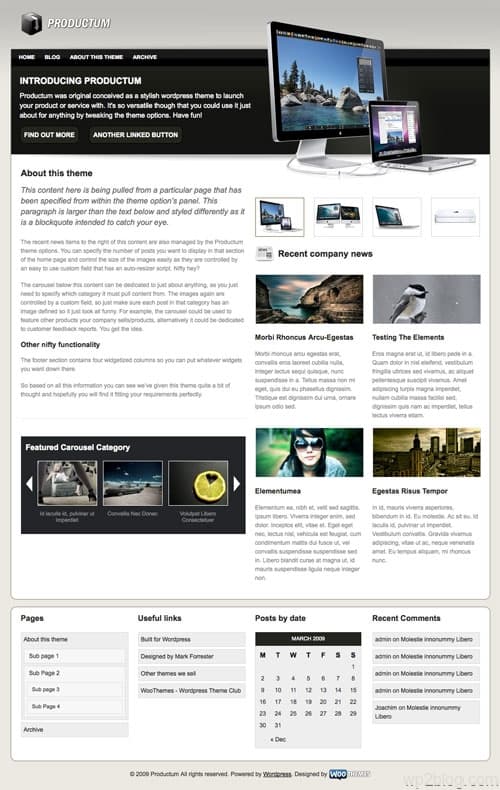 Features
Home page image switcher to help promote your latest products
Home page scrolling carousel dedicated to a specific category
6 widgetized areas (2 x left sidebar,4 x footer columns)
6 custom widgets (Flickr, Twitter, Search, Feedburner, Most commented posts, Recent posts)
11 great colour schemes to suit your site identity.
Integrated Theme Options (for WordPress) to tweak the layout, colour scheme etc. for the theme
Automatic Image Resizer, which is used to dynamically create the thumbnails for the blog posts on the home page
Trendy drop-down menu's for your main navigation
Custom Page Templates for Archives, Image Gallery & Sitemap
Built-in Gravatar Support for Comments
Threaded Comments for WP 2.7
Price:
Single Use: $70
Developer: $150
Woo Themes have a permanent 2-for-1 offer which means if you purchase a theme you get any other theme free! You can also join the WooThemes Club to access all current and future themes from Woo Themes.
Demo & Release Page | Purchase
Woo Themes have an excellent selection of high quality WordPress themes covering a wide variety of niches ranging from business, CMS, magazine / news, portfolio, lifestream, multimedia and personal blog designs.