Ultimatum Version 2.5 is a Drag & Drop WordPress theme framework from Ultimatum Theme that can be called as a total web design suite or software which will change the way you look in design. With this theme you are not limited to design or functionality offered like in other themes or frameworks you are totally in control of any aspect of your site with no coding skills required. Ultimatum's state of art technologies give you total control of most common elements on a web site with simple click drag and drop functions. You can create a fully professional look with Ultimatum without coding a single line.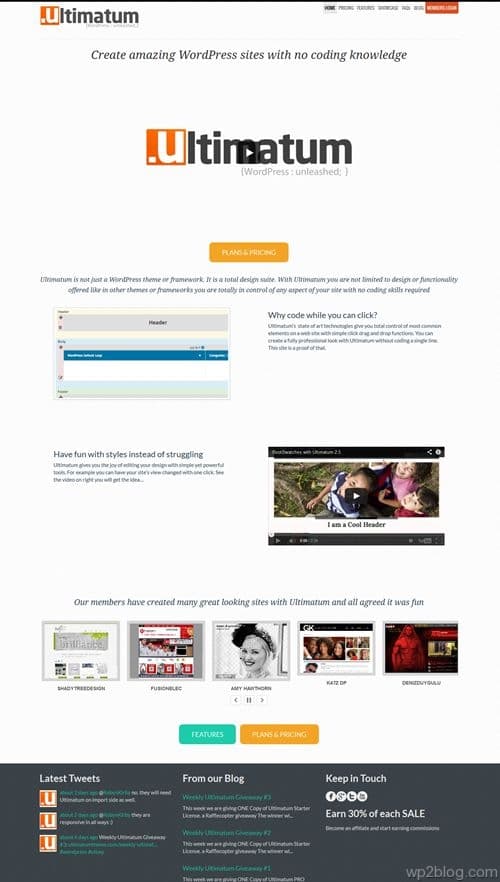 Price:    Starter License $65    Pro License $125
It provides a free trial version of this theme so you can fully experience the quality of the theme before making a purchasing decision.

Features
Bootstrap and Bootswatches – Now creating web sites with Bootstrap and 12 bootswatches with ultimatum is the easiest use of the bootstrap and bootswatches.
Visual Composer – Not only your layouts but also your pages needs drag and drop editing. Ultimatum now features the Visual Composer.
Layer Slider – One of the best sliders ever created. Easy to use and accurate to get results. Layer Slider will be one of your favorites .
Slider Revolution – Another awesome slider! Again with unlimited options supplied. We bet you will love it!
ShowBiz Slider – The best way to create the most awesome carousels. The abilities are jaw dropping and satisfaction guaranteed.
Easy Forms – What good is a contact page without a form? Is one form enough? Again as simple as drag and drop create unlimited forms.
Ultimatum Font Library – Design can only show itself with typography. Sometimes 600+ Google fonts might not be enough. Add your fonts in system and use them as you like!
Ultimatum Slideshow Generator – Create Slideshows from any content in your site with simple drag and drop actions. This unique slideshow generator is only for Ultimatum.
Ultimatum Shortcodes – Creating layouts with drag and drop was not enough for some of our members. it is why we have added infamous Visual Composer to Ultimaum.
Seven Menus – Seven different menu types in Ultimatum. You can use any menu in any place as much as you want.
Front-End CSS Editing – Edit your CSS live from front-end and se results before you click submit.
Import/Export Designs – You can simply export your design with on click and import it in another site again with one click.
Many custom Widgets – Ultimatum comes with many widgets that you wish you had known before.
Countless Hooks – Many hooks and actions in Ultimatum and all are explained with samples.
Custom Post Types – Create your own post types and organise your content with ease..
Click to set Commerce – Ultimatum is designed to work with WooCommerce flawlessly. All options you may need are just as simple as answering questions.