Amplify is a powerful and responsive WordPress theme from ThemeForest designed by Upthemes for Bands and Musicians. This theme utilizes the incredible AudioTheme plugin to provide a band or musician with all the tools needed to connect with and build a fanbase. It also comes with Custom Jukebox Audio Player, Google Maps support, Localization Language support and more.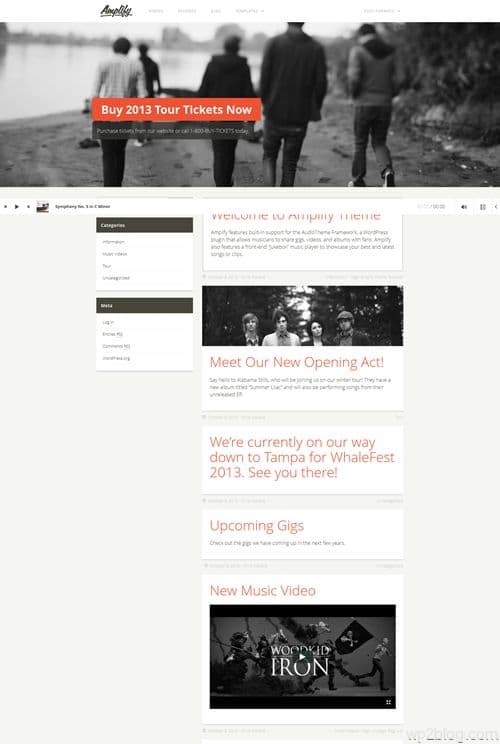 Price: $45
Note: With the launch of the Amplify theme, UpThemes also retired a number of older themes that will no longer be supported, however, They will make these themes available for download to any and all customers that have paid for access to them. Simply log into your account and download these themes at your convenience.
Features
Built for Use with the AudioTheme Plugin – Manage gigs, discography, and videos with ease using the AudioTheme plugin. The WordPress admin panel is transformed into your band's ultimate management tool with an easy-to-use user interface.
Includes Localization and Right-to-Left Language Support – Add your own language and display RTL languages as intended.
Custom Jukebox Audio Player – Upload your tracks and allow users to play clips or full songs on every page of your website with our custom audio player!It ties in directly to your AudioTheme tracks and offers an easy-to-use interface for selecting and updating tracks in the jukebox.
Google Maps Support – Display an interactive map for each of your upcoming gigs, making it easy for fans to get directions to your next show.
Custom Logo and Background Support – Upload your own images easily with the WordPress Theme Customizer!
Developer Feature: Built with Foundation 4 and Sass/Compass – The CSS for this theme is powered by Foundation by Zurb and Sass, a powerful CSS pre-processor. Either edit the CSS directly or use Sass to regenerate your theme CSS easily and quickly.