Church Themes released a flexible church WordPress theme called Exodus that comes sermons (text, audio and video), events (with recurrence, maps and directions), locations (show one or multiple), and profiles of staff and leaders. Your church's sermon archive can be organized by topic, series, book and speaker — and you can podcast too. WordPress itself includes a blog, photo galleries and the ability to create any number of custom pages with the content of your choice (Ministries, Statement of Faith and so on).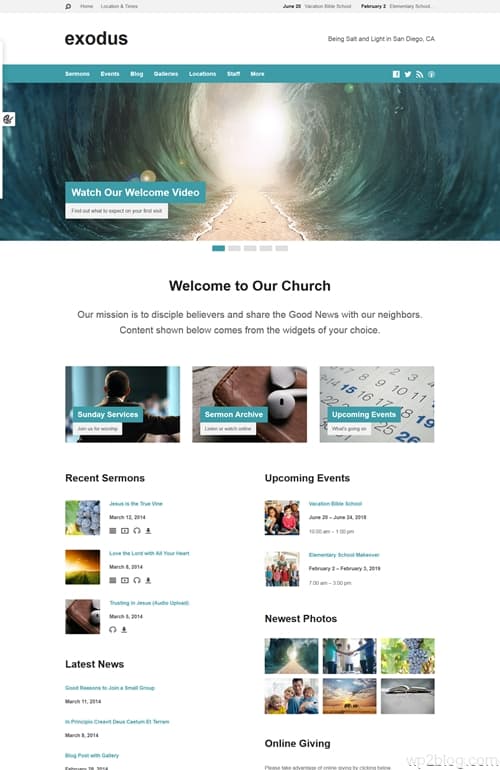 Price: $50

Features
Mobile-friendly – Responsive design makes for a great experience on phones and tablets.
Customizer – Change the appearance of your site using the Customizer. Preview in real-time.
Add your logo – Upload your logo image or enter text then choose a font and size.
Color schemes – Includes dark and light color schemes.
Custom background – Use a preset background, upload an image or pick a color.
Custom fonts – Set hand-picked Google Fonts for your menu, headings and main content.
Header right – Show the latest events, sermons, posts, tagline or custom content.
High resolution – Resurrect takes advantage of high resolution screens such as Retina®.
Custom homepage – Choose what shows: slides, highlights, intro and your favorite widgets.
Sermons – Publish sermons in text, audio, video and PDF formats. Organize by topic, book, series, speaker, tag and date.
Podcasting – Audio podcasting for sermons is built-in. Compatible with iTunes®.
Events – Publish single or multi-day events. Make events repeat weekly, monthly or yearly. Show maps with directions.
Locations – Show one or multiple church campuses with service times, map and directions.
People – Publish staff and leader bios with contact info. Organize by group.
Blog – Post church news and articles.
Photos and videos – Add photo galleries anywhere. Upload videos or embed from sites like YouTube.
Section banners – Show banners atop different sections (ie. one for sermons, another for events).
Church widgets – Show sidebar widgets for sermons, events, locations, people, galleries, giving and more.
Sitewide search – Visitors can search for sermons, events, blog posts, pages and other content.
Sample content – Make your site look similar to the demo for an excellent starting point.
Portable content – The Church Theme Content plugin makes switching themes easier.