Church Themes released a flexible church WordPress theme called Maranatha designed to help you make a stunning church website easily. It features include a long homepage with parallax-inspired scrolling effect and a sticky menu, you also can presents your sermons as audio, video or text and makes podcasting simple.  The events calendar has features for recurring events, maps and categories. You can create ministries, present staff profiles, share locations and publish a church blog. Other notable features of this church WordPress theme are custom header images and footer widgets.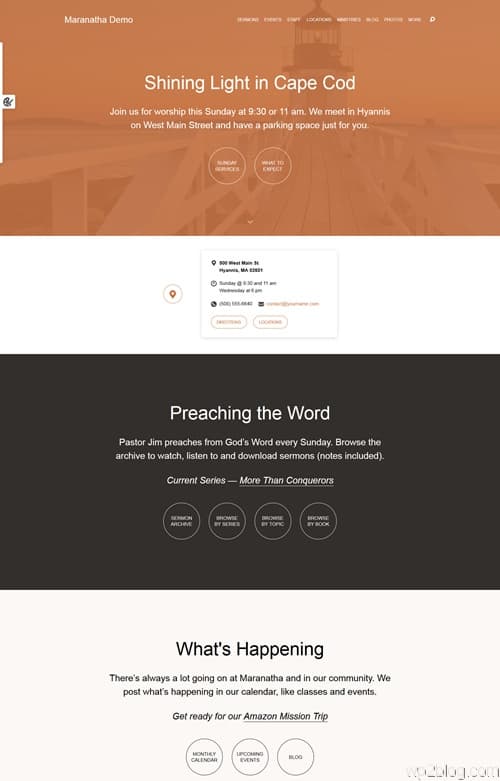 Price: $99

Features
Mobile-friendly – Maranatha has a responsive design optimized for smartphones and tablets.
Customizer – Customize the design's colors, fonts and other elements with a real-time preview.
Sticky menu bar – The menu and logo conveniently "stick" to the top of the screen as you scroll.
Add your logo – Upload your logo image or use text while choosing a custom font and size.
Section navigation – A compact menu specific to each section helps users navigate sermons, events, etc.
Custom colors – Easily customize your site's main color and the color for links and buttons.
Simplicity, readability – A single content column with carefully chosen width and font size emphasizes content and improves comfort.
Custom fonts – Choose from a hand-picked selection of Google Fonts ideal for Maranatha.
Header images – Show images for different sections (e.g. one for sermons, another for events).
Custom styled maps – Custom styling of Google Maps ties them into Maranatha's unique design.
Sticky notice – A notice bar sticks to the bottom for showing upcoming events, recent sermons or other content of your choosing.
High resolution – Maranatha is optimized for high resolution screens, including Retina®.
Long homepage – Drag and drop sections to create a stunning, informative homepage.
Sermon archive – Share audio, video and text sermons. Upload or use YouTube, Vimeo and others. Topics, books, series and speakers.
Events calendar – Display events as calendar or list. Set weekly, monthly or yearly recurrence. Show maps, directions and categories.
Sermon podcasting – Podcasting for audio sermons is included and works with iTunes®.
Locations – Single or multiple locations with service times, map/directions and photo tour.
Staff and leaders – Show staff and leader profiles with contact details, organizable by group.
Ministries – Create a listing of your ministry pages using the Child Pages template.
Blog – Publish articles or news on your church's blog. Nothing beats a WordPress blog.
Photos and videos – Add galleries to any content and upload or embed videos from popular sites.
Footer widgets – Show widgets in your footer for sermons, events, blog, photos, giving and more.
Footer map – Make it easy for newcomers to find your church with a map in the footer.
Site search – Users can click the search icon in the header to find things on your church site.
Sample content – Get started fast by importing sample content similar to the demo.
Portable content – The Church Theme Content plugin makes switching themes easier.