Classifier is a responsive WordPress theme from Colorlabs Project will help you develop a classified ad website in which you can add your ads, renew your ads, delete your ads, or add or modify multimedia files to your ads. This theme also can be adapted to community websites, business directories, personal ads, real estate listings, auto ads, miscellaneous items for sale and much more.
Classifier comes with all the needed features to launch a successful paid or free, membership-based enterprise. The listings are detailed with photos, descriptions, price tag, contact information and inquiry form. Classifier WordPress theme will assist you in generating income from your website without fail.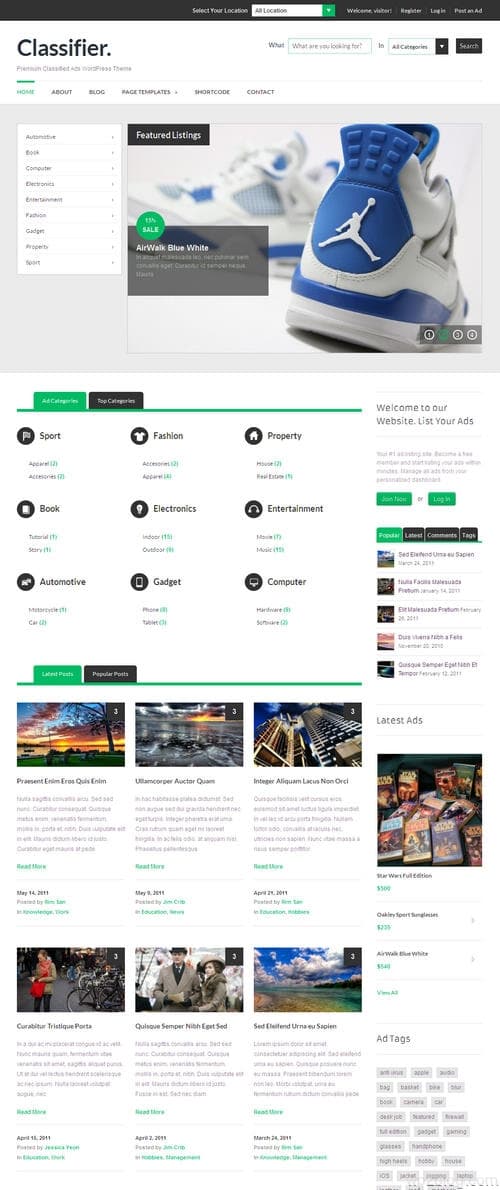 Responsive Design

Features
Memberships setting – Set your own membership package setting in the theme panel. And let your visitor to join the membership package to made ​​a lot of advantages.
Listing Details – The details will appear at on the sidebar and show many details of the ad.
List your own ads – They can sign up from the front-end and start to list their ad in your site.
Tabbed category list – Tabbed widget will show two different category lists. Ad categories shows your default category list, and Top Categories shows your from the most popular category.
3 kinds of content layout – Classifier comes with 3 layouts: Full Width, Left Sidebar and Right Sidebar.
Gallery Page Template
Headline Slider
Video Page Template
Pop-up effect in Gallery and Portfolio pages
Portfolio slider
Layout setting
Automatic Thumbnail Resizer
Theme Administration Panel
WordPress Threaded Comments
Cross-Browser Compatibility
Price:
Standard Pack: $49
Developer Pack: $99
ColorLabs Mid-Year Sale! Get the All-in-One Bundle: 30+ Premium WordPress Themes for only $74. Click here for details.