PremiumPress released a responsive application WordPress theme called Dating for online dating website which needs chat rooms, private messages, gifts/winks, membership options and so much more. This online dating website template also can be used as a community website or other related business site.  PremiumPress products are not just themes. They are 'turn key' solutions for building professional business websites quickly, easily and at a fraction of the usual price.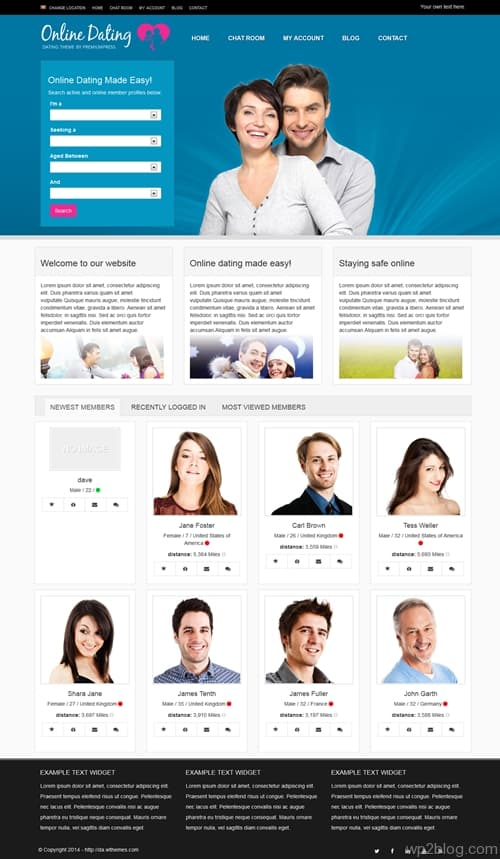 Price:  Standard Offer: $79   Club Membership: $249 (Best Value)

Top 10 Features
Online Status Indicator – Your visitors can easily know which users are online and which are not with the built in online status indicator.
Built in Chat room – This theme comes with a built in chat room for your members to chat. It maybe basic but it gets the job done and can easily be swapped out for other chat room software with the extra plugins.
Member Gifts/winks – Let your members send free gifts to each other to help them get conversation started. This is a great feature that really helps bring your website alive.
Listing Enhancements – Members can enhance their Profiles with new features such as featured text, highlighted Profiles, HTML descriptions. Each enhancement you can charge extra $$$ for making it a great revenue resource.
Images,Video,Music,PDF & Doc Uploads – This theme supports a range of different media types allowing your members to upload and share their content with ease. The upload process is clean and simple making it easy for users to add Profiles.
Distance Calculator – This great feature lets users find matches that are closest to them. Using the location and GEO options built into the theme users can set their current location and find matches nearby.
Chat room Invitation – Members can invite other members who are online to chat with them in your chat room. Once the request is sent a pop-up will appear on the received end informing them of the request.
Custom Fields and Advanced Search – You can setup as many custom fields as you like allowing you to create websites for all niche markets. You can then setup the fields to be searchable and add them to your advanced search tool.
Drag & Drop Home Page Layouts – Adding and removing content from your home page is ease with our home page management tool. You can simply drag and drop the content you want onto your home page and adjust the text/images as necessary.
Ease Text & Color Changes – Changing colors couldn't be easier! Within the admin area we have laid out a number of quick links and button options allowing you to adjust colors, fonts and website content.