SaleJunction is a e-Commerce WordPress theme from Ink Themes to create your own E-Commerce Store to sell your products. SaleJunction is compatible with WooCommerce & Easy Digital Downloads plugin to enable selling both tangible goods as well as digital products. SaleJunction has a home page which consists of Full width moving slider where you can display images related to your E-Commerce business. Also, you can prominently feature your latest products on the home page.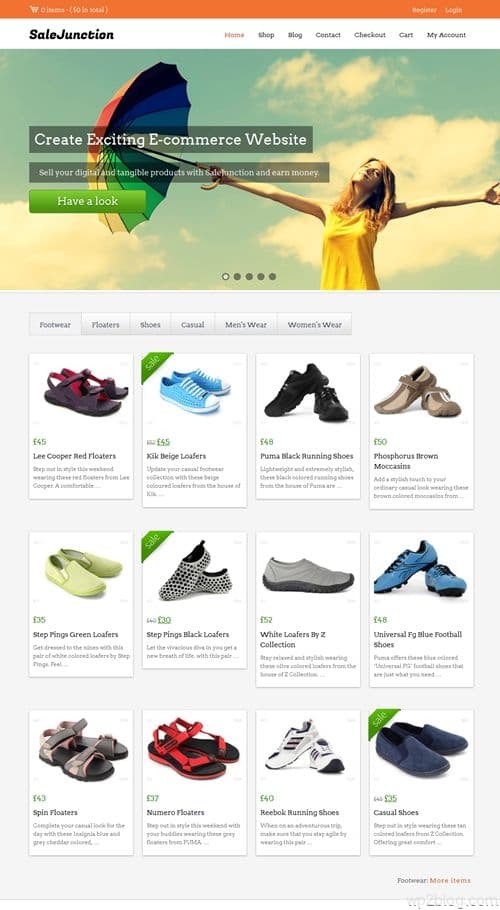 Price:
Single Theme: $45
InkThemes Membership (All Themes): $125
It provides a free trial version of this theme, so you can fully experience the quality of the theme before making a purchasing decision.
Features
Very Simple & Easy to Setup
Compatible with both WooCommerce & Easy Digital Downloads Plugin
Prominently Showcase your Products
Easily navigate and view products.
Beautiful Fullwidth Slider
Elegant Typography & Design
Design made to increase your sales conversion
Sell both Tangible & Digital Goods easily
Checkout process through PayPal.
Customizable theme colors and style.
Feature area on home page to showcase your services.
Widgetized footer area and sidebar.
Various Page Templates like Gallery, Page with Sidebar, Fullwidth Page available.
Display links to your social networks.