Alpha is ultimate magazine & news portal WordPress theme from WPZoom with a responsive design, and includes two absolutely unique styles: Magazine and Newspaper. A built-in news ticker allows you to quickly create a set of breaking news, which are highlighted at the top of the front page. It also comes with Image/Video Slideshow, Tabbed Widgets, Video Widget and more.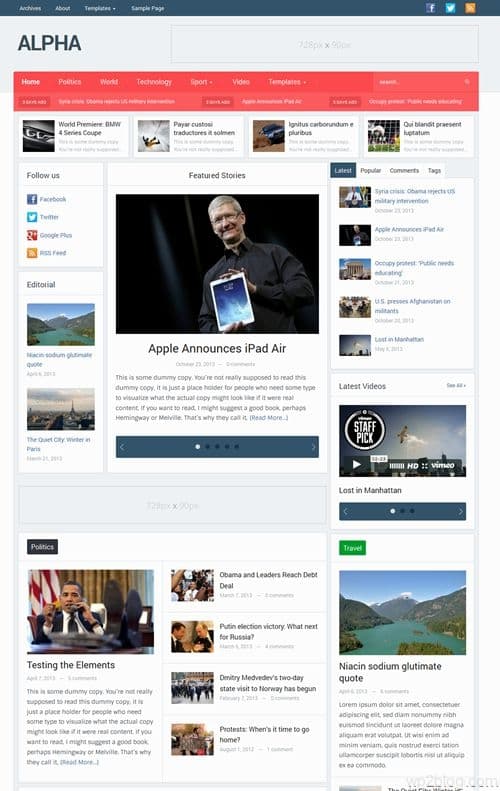 Price
Standard License: $69
Developer License: $149
WPZOOM Membership: $9/month
WPZoom offer a range of premium WordPress themes in different styles including: magazine / news, business, CMS, video, photo gallery, portfolio, and professional blogs.
Features
ZOOM Framework – With our advanced ZOOM Framework, you can easily customize every detail of your theme to best suit your needs.
Responsive Layout – The layout of this theme automatically adapts to fit on any screen resolution on desktop and mobile devices (iPhone, iPad).
Featured Slideshow – Easy configurable video & image slider on homepage which allows you to showcase any posts you want.
Newspaper Skin – Alpha theme includes 2 unique styles: Magazine and Newspaper.
Video Widget – This theme is making use of the Post Formats features, so you can easily display Video posts in a widget in the sidebar or other widgetized area.
Breaking News Ticker – A built-in news ticker allows you to quickly create a set of breaking news, which are highlighted at the top of the front page.
Multiple posts layouts
Shortcode Manager
Custom Menus Management
Tabbed Widget in Sidebar
Threaded Comments Support
Custom Widgets & Features
SEO Options Section
Custom Page Templates
Developed for WP 3.3+
Custom Logo Input
Automatic Image Resizing
Internationalized & Localized
Banner Management Section
Custom Background Support