Stage V2.0 have been released from Themedy  that with a brand new design for photographers, freelancers who needs to organize and showcase photos, works, business and more. Stage 2 has been totally redesigned and build with Thesis or Genesis.  It offers a great looking and features-loaded template, unique homepage design with a photo grid and much more.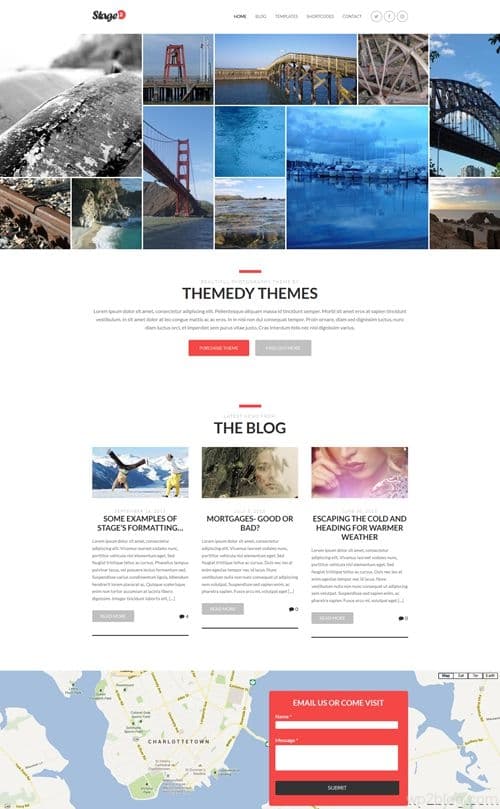 Price
Single Theme: $49.95
Lifetime Membership: $209.95 (all themes)
The Genesis Framework is a highly optimized, flexible and secure WordPress theme framework with convenient layout, design and SEO options. Genesis has clean, optimized code and design architecture to ensure your website and content is search optimized, and your site and content rank higher in the search engines. Genesis also makes it easy to customise and manage your site with features such as mix-and-match layout options for individual pages or posts, custom widgets, automatic framework updates, comprehensive theme options panel and more.
Thesis is a powerful and flexible design and template manager for WordPress that makes it easy for anyone to create their own custom blog or website. Thesis comes with a comprehensive visual template editor and built in tools which give you total control of your layouts, typography and colour schemes without any coding at all. The Thesis theme is also fast and optimized for the search engines.
Features
Built in Design Tool – Using our built in design tool you can create customizable buttons, styled lists, info boxes, quotes and more. It's easily accessible right from the page / post editor in WordPress with a simple point and click interface. Check out this page to see some samples of the options you can create: ShortCodes Sample
Landing Page Template – All our themes come with a landing page template that lets you create great looking landing pages / squeeze pages. You can set any page to use this powerful landing page template by selecting it right in the WordPress page editor. Create powerful conversion opportunities, check out an example by clicking here.
Additional Design Schemes – Most of our themes come with multiple pre-designed color schemes that you can switch between with a click of the mouse. For example, check out CinchPress in blue, red or grey (among others). On our demo page just select the more styles drop-down on the top right of your screen to see all the options you get with each theme.
Portfolio Functionality – Some of our themes included portfolio functionality. Use the portfolio post types and portfolio page template to easily showcase your projects. The template will automatically generate thumbnails and excerpts for you to show off your latest work or products!
Slider – You love em or you hate em. Fortunately we're pro-choice at Themedy and many of our themes include a customizable slider that you can use on your homepage. Our slider works by pulling in the featured image setting of your page, post or portfolio. If sliders aren't your thing, just turn it off via the themes control panel – the power is in your hands.
Themedy Custom Widgets – Come with custom widgets you can use to enhance your theme. They allow you to pull in Flickr photos, display videos, place advertisements and display your content in unique and exciting ways.
PSD – PSD or Photoshop Document is a file designers can use to customize the graphics of our themes easily. All our themes come with a layered Photoshop file – which means if you hire a designer to customize your site further – you'll probably spend less money and your designer will be able to do their job much easier.
Works across Major Browsers – Themes are tested on all modern browsers like Chrome, Firefox, Safari and Internet Explorer. We've also ran the CSS and HTML markup through W3C validation to ensure web standards compliance. What does this mean to you? It means your site will look great to all visitors regardless of how they access the web.
Gallery support with lightbox (image popup) and slider support right out of the box, using simple and easy WordPress gallery functionality
A new feature packed and highly customizable front page template
Responsive and iPhone/iPad Ready
HTML5 ready and Retina optimized
Built in Design Tool (Shortcodes)
Responsive Landing Page template
Unlimited style choice with color picker- choose your primary theme colour in one click!
Fully layered PSD included
Plus All of our Core Features Below