Instyle is a responsive WooCommerce WordPress theme from GavickPro with a modern, stylish and clean design. The theme comes with a visually appealing e-Cmmerce and product layout, pop-up shopping cart widget, product showcase slideshow, 2 menu options, advanced typography, multiple color schemes and much more.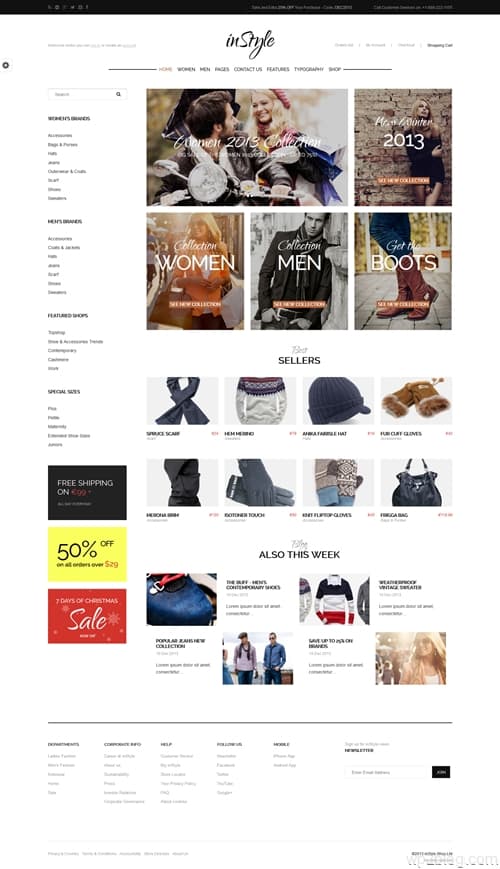 Price: Starting from €40

Features
Display your products the right way – News Show Pro widget is a stunning tool for giving your customers information about your products, such as price, name and category, at a glance with a clear yet visually-appealing layout. Don't hide your products away between layers of menus; our inStyle WordPress theme takes product display to a whole new level!
Make shopping seamless with pop-up shopping cart – In the fast-paced modern world, customers demand fluidity in their purchasing experience; with our pop-up shopping cart widget, you can give it to them. No page-refreshing required; with one click the shopping cart opens in a seamless and clear overlay, so your customers can keep track of their purchases without wasting valuable time.
Elegant slideshow showcase – GavickPro's own GK Image Show widget creates magical slides to enchant your visitors with beautiful parallax transitions, so your showcase can match the sublime style of your products. Don't settle for cheap knock-offs, GK Image Show is the ultimate tool for showing off your wares.
Show-off your specials with our free .PSD banners – Sometimes subtlety takes a backseat to keeping your customers informed of the great offers you have available, but that doesn't mean that you should sacrifice style and elegance. Use our .PSD banners to put your news at the forefront while maintaining the sophisticated look provided by inStyle.
Make you choice from 2 menu types – Use a menu that suits your customers' preferences; whether you wish to use the clean, accessible Classic menu or the modern, discrete Aside menu, our menu options give you the flexibility to choose.
Advanced typography – Make your content more readable and accessible or create an exceptional look for your visitors; with support for advanced typography you can control every aspect of your text to achieve the look you and your users desire.
Be an individual with predefined styles – Comes with multiple color variations that let you change the look of your site at the touch of a button, so you may achieve just the right look for your needs.