Résumé is a builder child theme from iThemes designed for those seeking employment. Résumé features 3 color versions, and is the perfect theme to accompany you on your search for a new career! Responsive is Coming to iThemes Builder, so this theme will be a responsive theme very soon.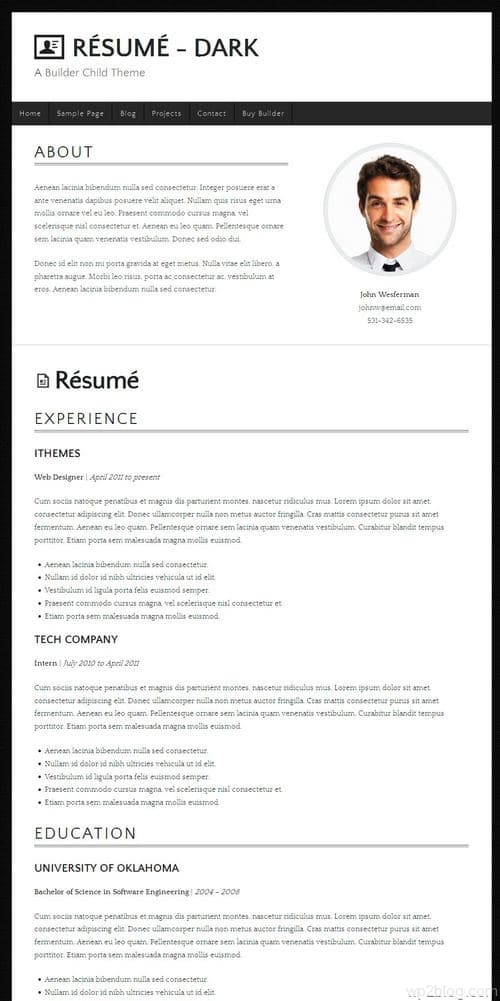 Price:
Single Theme: $80
iThemes Builder Developer Pack: $197 (60+ child themes)
All Themes Package: $387 (100+ themes) Recommended
iThemes specialize in business & CMS WordPress themes, and have a large selection for designers, photographers, business and other niches. iThemes Builder Framework allows you to build professional sites with WordPress quickly & easily by creating your own layouts.
Builder's layout engine lets you create layouts and widget areas exactly the way you want. And child themes (like this one) handle the design, typography, colors, spacing and overall style . And if you change to a different child theme in the future, the layouts of your site and your widgets remain the same. Plus, you can use Builder's style manager plugin to make tweaks to your child theme without digging into code.
Builder Theme Framework Features
With Builder's innovative Layout Engine, you can build almost any layout you'd like within minutes.
Layout Editor – build almost any kind of new layout or page template you want (without knowing code)
Custom Landing Pages – squeeze pages, email opt in pages, feed pages, portfolio pages etc
One theme for almost every Project
Build almost any kind of new layout or page template you want in minutes (without knowing code)
Use one theme to build a website with multiple layouts and individual looks for each (Yes, each layout can have its own CSS!)
Assign specific layouts to certain WP Views (Specific layouts for blogs, pages, posts, EVEN categories!)
Create new widgets areas layouts or sidecars on the fly (We almost called this theme the Widget Theme)
WordPress 3.0 Custom Menu integration
Advanced SEO options panel
BuddyPress integration
Multiple Use License – use on as many personal and client sites as you want!
One Year of Support and Updates
Style Manager – easily tweak the CSS
Billboard & Rotating Images plugins – $90 value
60 Bonus Child Themes(Less than $3 per theme if you purchase iThemes Builder)