Slanted is a microblog premium WordPress theme from WooThemes designed for micro-blogging with WordPress. The theme will turn your WordPress site into a microblog similar to Tumblr or Posterous and allow you to quickly and easily post content such as notes/articles, images, video, audio, quotes & links etc, via a custom QuickPress interface. The microblog theme include a variety of jQuery wizardry and hotkeys, custom widgets and 10 different colour schemes.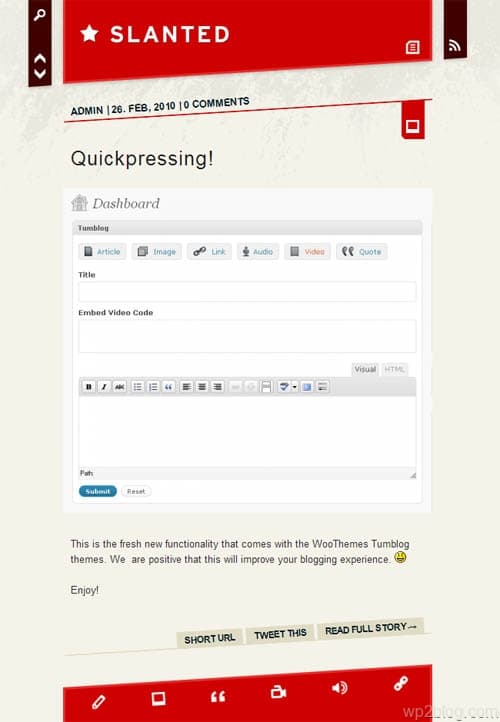 Features
Works like Tumblr
Extensive Multimedia Support – easily post a variety of multimedia elements (notes / articles, images, video, audio, quotes, notes & links) and the theme handles all the different post types automatically
Advanced Quick Press – post to your microblog from the dashboard with a AJAX powered QuickPress functionality
jQuery Navigation and Hotkeys
Custom Widgets – Flickr, Twitter, Adspace, Search
10 Alternative Colour Schemes
Custom Navigation – allowing you full customization over how your navigation should be structured
Backend options panel – make simple changes without editing code, like adding your own logo, changing to an alternate colour style, adding Google Analytics code
Cross browser compatible
Auto-sizing thumbnails
Localized for translations
Custom page templates
Price:
Standard: $70
Developer: $150
There is a permanent 3-for-1 offer, or get all 50+ themes in the WooThemes Club
Demo & Release Page | Download
Woo Themes have an excellent selection of high quality WordPress themes covering a wide variety of niches including: business, CMS, magazine & news, portfolio, photo lifestream, multimedia, personal and professional blog designs.