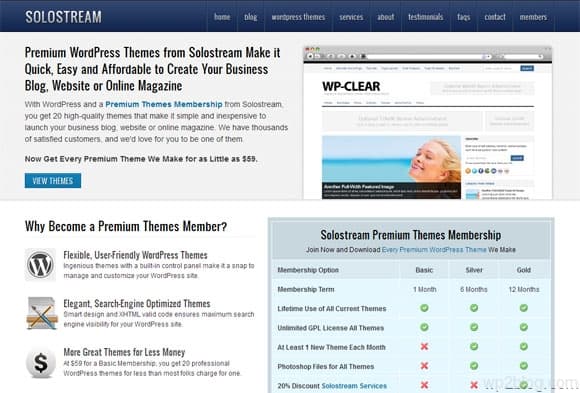 Solostream have introduced some exciting changes to their business, including moving to a theme membership system and adopting the GPL license for all their premium themes.
Premium Themes Membership
Solostream has changed the way they sell themes, discontinuing individual theme purchases, and introduced a membership system that gives members access to their entire collection of premium themes. With 20 premium WordPress themes currently available, it works out to less than $2.00 per theme with a Basic membership, which is incredible value!
There are 3 membership options: Basic $59 (1 month access), Sliver $79 (6 months access) and Gold $129 (12 months access). All membership plans provides unlimited access to all their premium themes, theme upgrades and support during the life of the membership, with additional benefits for Silver and Gold members. Solostream plans to release at least 1 new theme each month from here on.
Solostream Themes Now Fully GPL Licensed
Solostream has also made the decision to fully licence their premium themes under the GPL (GNU General Public License). The move to GPL licensing gives users more freedom in how they use the themes, and brings the company and their products more in line with WordPress which is also licensed under the GPL.
For more information about the new Solostream premium theme membership options and other changes visit Solostream.