StudioPress have released version 1.4 of the Genesis Theme Framework that includes a number of new features and improvements. The Genesis Framework is a feature rich, secure, search engine optimized foundation designed for both novices and developers to quickly and easily built websites with WordPress. StudioPress also provide 29+ beautiful turn-key designs to quickly give your site a different look.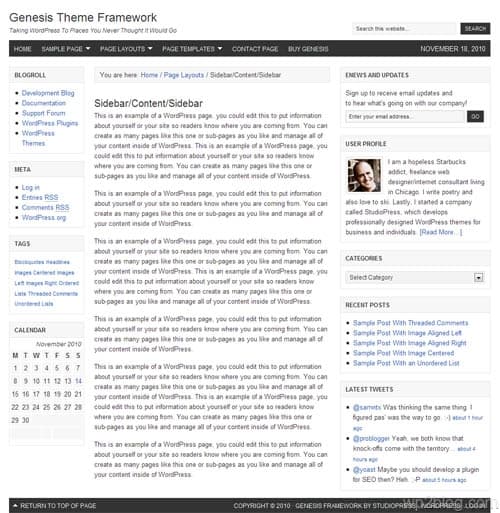 New features in version 1.4
Import / Export Settings – the Genesis Theme and SEO settings are now completely portable, so you can back up, restore, and transfer settings from one install to another
User Control System – allows admin to turn on/off theme settings, layouts and SEO option availability for users on a per user basis
More SEO Options
Author Box – display per page option
Register / Unregister Layouts
Lots of other minor improvements
Genesis Framework Features
Automatic Updates – easy upgrade similar to the way that WordPress itself (and plugins) are handled
6 Layout Options – selectable site wide or for individual post/page
Theme Setting Panels – many settings that let you fine-tune the way your site looks
Custom Hooks (40+) – a hook is a piece of code written into the theme that allows you to attach additional content to the theme itself
Custom Widgets (MyTweets, User Profile, eNews & Updates, Featured Posts, Featured Pages)
Dynamic Text / Image Logo option
Navigation menu controls
Drop down navigation menu
Post Thumbnails
Custom Widgets
Search Engine Optimised
SEO Options (site wide and individual page/post controls)
Post and Page Tracking/Conversion Code box
Widget-Ready
Breadcrumb navigation
Integrated Blog
BuddyPress Compatibility
Developed for Localization
Prices
Genesis Theme Framework: $59.95
Genesis + Prose (Point and Click Design Control): $84.95
Pro Plus All-Theme Package: $249.95 (best value)
Demo & Release Page | Download
StudioPress offer a range of professional WordPress themes including personal blog, magazine / news, media, photo, video and business / CMS WordPress themes.