The Springs is a premium WordPress church theme created by iThemes.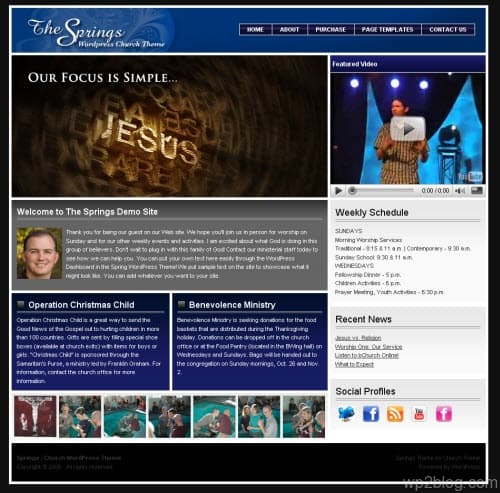 Features
Search Engine Optimization (SEO): Be found through search engines like Google and Yahoo
Audio and Video: Easy to upload and use your clips from YouTube and other sites
Blogging: WordPress is the best platform to share your thoughts or messages online
Rotating Headers: New plug-in keeps your site fresh and lively…without using Flash!
Social Networking: The Springs social icon feature makes following you on Facebook or Twitter simple by clicking a button
Category Refresh: The three category sections refresh with your posts. A great way to keep current!
Clean Design: The Springs gives you a professional, branded church image.
Price:
Single Use Package: $79.95
Multi Use Package: $149.95