The lastest release of the Thesis WordPress theme is version 1.7 which has lots of new functionality and increased efficiency. Thesis 1.7 is noticeably faster, more comprehensive, and way more detailed than previous versions.
About Thesis
Thesis is a powerful, high quality premium WordPress template system that makes it easy for anyone to run a professional, customized blog or website. Thesis comes with one of the most comprehensive Option Panels that allows you to easily control and customize almost every aspect of the framework with ease. You can select the font style and sizes, colours, the number of columns (1, 2 or 3 columns), the order of those columns and the exact width of each individual column – all without having to dig into the pages of code. Thesis also boats the strongest SEO of any WordPress theme on the market. Some very well know internet personalities and SEO "gurus" use Thesis.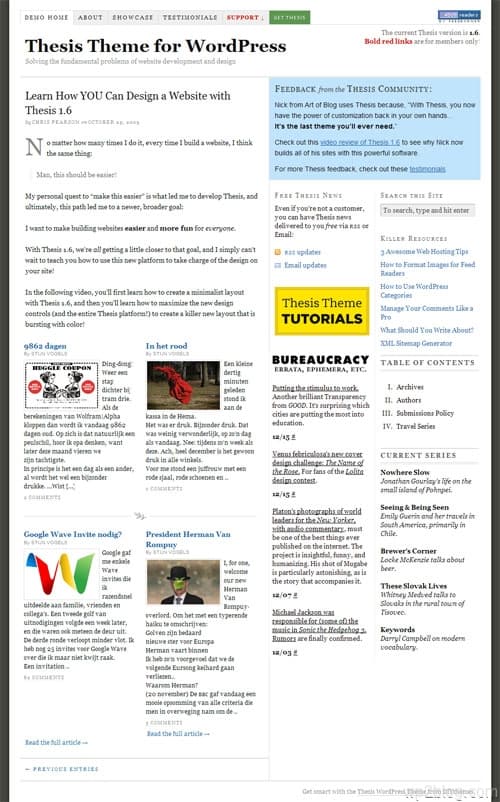 If you think the base Thesis layout pictured above looks a bit basic, you're probably right, so check out some of the awesome Thesis customizations here.
Thesis Design Options Page

New Features in 1.7
New SEO controls and details
Options Manager – allows you to backup, save and restore custom Thesis settings
Completely reorganised options page – now five main pages under the Thesis Options: Site Options, Design Options, Page Options, Custom File Editor, and Options Manager
Increased efficiency
Includes more JavaScript libraries – Add jQuery, jQuery UI, Prototype, MooTools, and others with a single click
New homepage controls
Flexible new comment system
Easy 301 redirects for affiliates
New hooks and headline filter
Ready for internationisation
Improved core element defaults
Dramatically improved code quality
Key Features
Thesis Options Panel – one of the most comprehensive theme options panel in a premium WordPress theme. Allows you to easily control and customise almost any aspect of the framework with ease. You can customise everything including, font styles, what you want to appear in the navigation menu, page titles, your RSS feed, what meta data shows on your post / page, how your archive page shows up etc.
Layout Options – Thesis gives you a multitude of column and width options to choose from. You can select the number of columns (1, 2 or 3 columns), the order of those columns and the exact width of each individual column – all without having to dig into the pages of code.
Features and Teasers – Thesis gives you an option called 'features and teasers' that allows you to have a front page that is more of a magazine style showing featured posts and short excerpts of other posts with thumbnails.
Colour Control – Thesis allows you change the colour of virtually every element of theme. Easy change text, border, link, background colours etc
Automatic Thumbnail Generation – Thesis will automatically resize pictures and generate thumbnails for your posts.
No coding experience required – The Thesis option panels allow you to command your site with ease without requiring detailed knowledge of HTML, PHP or CSS.
Future Proof Customization System – Allows modifications with a custom style sheet meaning you can modify your theme and protect it against any future upgrades.
Less Plug-ins Required – some of the capabilities that you would normally use plug-ins for are built into the theme. For example SEO options, Google analytics or other header and footer code, navigation menu options etc can all be managed in the theme options panel.
Pixel Perfect Typography – Thesis has polished typography with finely-tuned geometrics for maximum legibility. You can select what type, and size, of font you want in all the different sections of the theme.
Hooks – Thesis has a custom hook architecture that allows you to add to, subtract from or modify the functionality of your Thesis installation. It allows you to isolate all of your custom changes to just two key files. This makes your Thesis installation easy to customize, and easy to upgrade.
Rich Style Classes – Thesis features built in classes to help you make important content stand out, and add some pizzazz to your site. You can add a drop-cap, alert box, a note box, or even wrap text around adsense ads etc.
Customisable Multimedia Box – Thesis includes an optional fully customizable multimedia box which can be used for rotating random images, video, advertising or your own custom code.
Search Engine Optimization – Thesis boasts the strongest SEO of any theme on the market today thanks to its expertly-coded HTML + CSS + PHP framework.
Support – Access to documentation and a great support forum managed by talented and helpful staff
Continuous Improvement – Thesis is continually being upgraded and improved and new featured added. When you purchase thesis you get access to lifetime updates.
Much More – read about more Thesis features here
Price:
Personal Licence: $87
Developer's License: $164