Postcard is a travel WordPress theme from WooThemes designed for travel blogging. This unique theme is ideal for blogging about your travels, allowing you to map your progress, share your experiences, photos, and keep in touch with family and friends while you're on the road. The theme features Google maps integration for geo tagging your posts and tracking your progress, a custom AJAX image gallery template, 9 alternate styles and more.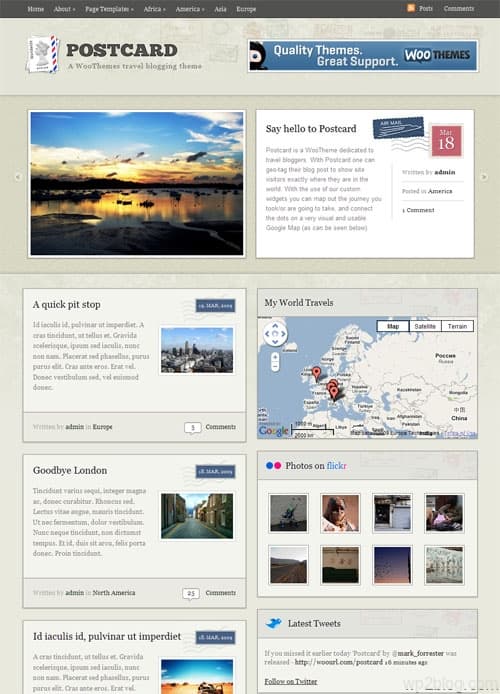 Features
9 alternative styles (from a 'minimal' blank canvas through to an 'airmail envelope' style)
Custom home page slider
Google Maps integration – for geo-tagging of posts, with a custom map panel for your blog post editor and journey planning widgets for usage on the home page
Custom Widgets
Image Gallery – category-based image gallery template
Drop down navigation menus
Backend theme options panel
Cross browser compatible
Auto-sizing thumbnails
Localized for translations
Custom page templates
Price:
Standard: $70
Developer: $150
There is a permanent 3-for-1 offer, or get all 50+ themes in the WooThemes Club
Demo & Release Page | Download
Woo Themes have an excellent selection of high quality WordPress themes covering a wide variety of niches including: business, CMS, magazine & news, portfolio, photo lifestream, multimedia, personal and professional blog designs.