Vantage is an application WordPress theme from AppThemes that transforms your site into a professional business directory. It features claiming listings, Improved Location Search, Pricing Plans,  many payment gateways, multiple color schemes and more.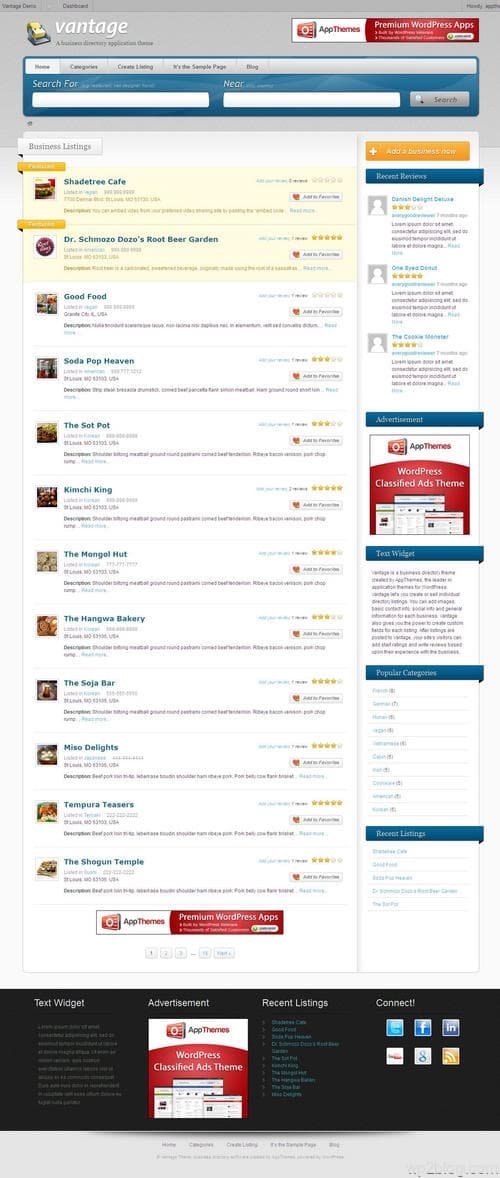 Price
Standard Edition: $99, Standard Club Membership: $ 249 (Recommended)
Developer Edition: $159, Developer Club Membership: $349
AppThemes was conceived in 2010 by a team of WordPress enthusiasts looking to make it easier for businesses to setup an online presence. They create high quality, professional, creative premium WordPress application themes for various niches including: classified ads, job listing, coupon management, issue tracking, business directory, etc.
Features
Monetize Your Site – Directory sites are well known in the online marketing community as a stable and reliable source of income. With Vantage, you can charge for single listings and charge premium for featured listings. You can also generate traffic with free listings and take advantage of one of the many advertising widgets.
Single Listing Details Page – Every detail a business could want all on one page. Location, contact info, web and social links, pictures, tags and more. Our powerful form builder lets you add even more info with custom fields. Overview tab allows business owners to tell the story of their enterprise with text and HTML.
User Generated Ratings and Reviews – Give people a reason to come back to your site again and again and again with user reviews. Businesses are rated on a five-star rating system. Reviews can be moderated, so you have complete control. Coming in Vantage 1.1…business owners will be able to respond to reviews!
Flexible, Powerful Pricing Plans – Vantage pricing plans give you plenty of ways to generate income. Create multiple pricing plans. Assign plans to categories. Offer featured listings on home page and category pages. Your imagination will be the only limit to the kinds of plans you create.
Create a Community with Social Features – Social integration is a must and Vantage let's you stir up a frenzied buzz. Both businesses and users can list Facebook and Twitter accounts and we made sure that Vantage works with important social plugins like ShareThis and Social Connect.
Advanced Search – The most advanced & customizable WordPress search around gets even better in Vantage. Our refine search module includes helpful sorting features, a radius (by city or zip code) slider for pinpoint accuracy (due to geo-coding each ad using the Google Maps API) and category-specific filtering.
Claim Listings – Don't wait for business owners to come to you! Entice them to sign up with our claim a listing function. Populate your site by importing or inputting tons of listings, mark specific listings as "claimable", then let business owners claim and pay for the listing.
Sky's the Limit with Custom Forms – Vantage is the first directory theme that is flexible enough to fit your specific needs. Need to collect data that is unique to your directory's niche? Use our custom form builder to add the custom fields you need with text, radio buttons, checkboxes and select menus.
Complete Control with WordPress Admin – The famous admin features that make WordPress the choice of tens of millions of bloggers is harnessed to give you complete control over everything in Vantage. We include tons of options for everything from the smallest detail to the biggest features. With Vantage, you're in charge!
Google Maps Integration – Some directories need maps, some don't. Vantage let's you decide. There's map widget for listing pages that shows the precise location of the business. We also put a location finder map on the create a listing form so business owners know they are choosing the exact location when creating a listing.
User Dashboard – Everyone gets a dashboard with Vantage, not just business owners. The dashboard is the nerve center for your site's users – a single page where they have access to all their reviews, contact info, site stats and business listings. Each listing is clearly marked with current status: pending, active or expired.
Not Just a Directory, a Complete Website – Sometimes you need more than just a directory site. Vantage keeps the blog and CMS features that make WordPress so powerful and popular. Use the blog to promote your directory or create a content-rich portal for a real world community (cities, counties, etc) and an online ones.
SEO Friendly – This themes are built to instantly take advantage of the SEO muscle that makes WordPress the most search engine friendly CMS around. All you need to worry about is running your business.
User Favorites – Your Vantage site is going to be huge! But how will your users remember the listings they go back to again and again? With "Favorites"! This Vantage feature lets users mark listings as "favorite" so they can view them in their customer dashboard.
Custom Widgets Galore – Vantage works with all the native WordPress widgets plus custom widgets including: popular categories, related categories, recent listings, recent reviews, single listing map widget, social links, and multiple ad widgets for different locations in the theme.
AppThemes API – API enables developers to customize functionality without having to modify the theme code. Our API uses hooks that work the same exact way native WordPress core hooks do which makes it a breeze to work with our themes. We even include a Google Checkout plugin (free) and a plugin template.
PDF Uploads – Restaurants want to add menus. Auto repair shops might want a pricing sheet with services offered. Other businesses may want to upload brochures. With Vantage, business owners can add PDF files to their listing and show off their business even more.
Multiple Color Schemes
Widget-Enabled Sidebars
Easy-to-Use Option Pages
Themed Login & Signup Pages
Custom Post Type & Taxonomies
Dedicated Blog
Search Custom Fields
Radius Search
Featured Listing Pricing
Multi-Language Support
Multiple Currency Support
Regional Date & Time Format
Image Upload Support
User Dashboard
Open Source Code
Tight WordPress Integration
XHTML & WC3 Valid
Clean & Well Commented Code
Child Theme Support
Multisite Enabled
Unlimited Web Sites
Instant Download
Transferable License
PayPal Gateway
API Extensibility
WordPress 3.4 Support
Multiple Gateways