Viva 7 is a revolutionary, smart premium theme that turns WordPress into a truly customisable magazine style content management system (CMS), and allows non-coders complete control without ever having to edit a single line of code. You've got to love a WordPress theme that can be fully managed from the WordPress Dashboard.
Viva 7 is fully customisable from a Theme Options page, which offers hundreds of different layouts through combinations of 7 colour schemes, 2 widths, and 2 header heights. You can switch the columns around, change the way Event items are listed, try new colours, backgrounds and more. All without touching a line of code, so you can spend more time on creating great content.
Example Layout and Colour Options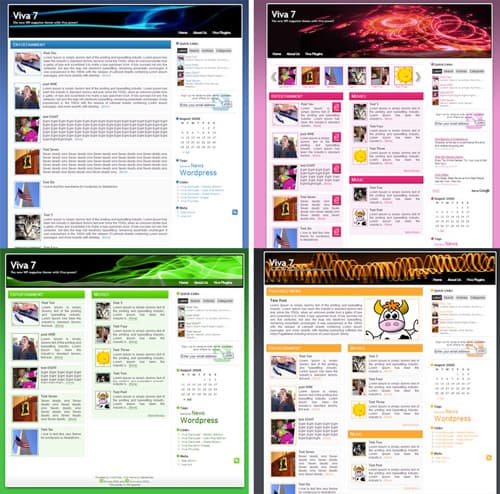 First few settings in the Theme Options page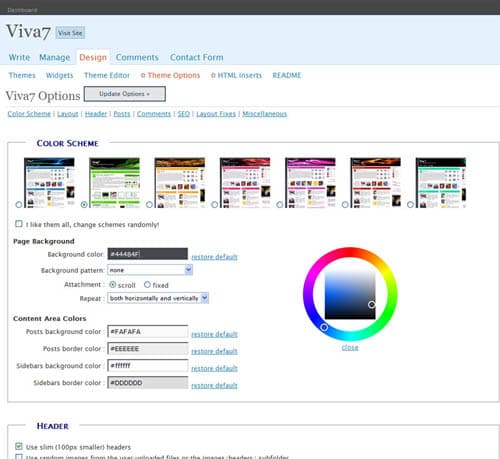 Features:
Fully Customisable Without Code Editing
Viva 7 is fully customizable from the WP Dashboard. Re-arrange your site with no code editing. Most other magazine theme's around rely heavily on the user making a mass of code edits to position content in the right sections, a hefty amount of manual thumbnail creation and numerous custom fields added to each post to create that Magazine look and feel. The end result is a blog that looks great but takes forever to update and post to. Viva 7 fills a gap in the magazine style premium WordPress theme market in that it's easy to customise and totally flexible without editing code.
Fresh Video Content
Other premium WordPress themes like Revolution and Mimbo also include video in their layout but choice of video content is limited to a single video that the site admin has to update regularly to keep a fresh look for repeat visitors. Viva7 includes a dynamic Video Widget that can serve random videos from a playlist on each page load – or offer specific videos on key pages and posts.
CSS Free Colour Edits
Changing the background colour, pattern or style of most premium WP themes is also a challenge for those not familiar with CSS files. VIVA7 provides seven core colour schemes that are ready to go out of the box. What's more you can quickly and easily edit key colour elements on the page through the Theme Options page, and without a single CSS edit create a site that has the look and feel you want – FAST. Creating a whole new colour scheme is easy too – just copy a scheme folder and edit to suit
Write > Upload > Publish
VIVA7 out performs all other Premium themes when it comes to writing content. Write your post and upload an image. That's all you need to do. All your homepage thumbnails are generated on the fly – NO custom fields required! Your post is added to the homepage in full magazine style as well as to the Viva carousel. You can also upload a Per Post header image direct from the Add Media uploader while editing a post, and your header image will be displayed exclusively on that post or page. You can even just fill a folder with header images and have them randomly displayed on your site to give a really FRESH look on every page load.
Exclusive Plugins
Viva7 comes with three new EXCLUSIVE Viva plugins. Viva Video widget, Viva Menu Bar which adds the option of an unobtrusive admin menu to your homepage and Viva Events – a huge PLUS for site owners who want to publicize events and list them on their homepage by event date rather than post date.
The Viva7 homepage can be setup to display date boxes, comments and author information (like a regular blog site) or given a more neutral CMS feel by excluding these elements- all from the WP Dashboard. The result is a theme that takes WordPress to a whole new dimension.
Features at a Glance
7 colour schemes (red, orange, green, blue, teal, purple, pink)
2 layout widths (800px and 1024px)
Intelligent Content Limiting trims homepage content display based on theme layout.
Narrow or tall Header Graphics – plus EZ Per Post headers and/or random header graphics.
Drop down Page Menu bar that can be positioned left, right or center.
Homepage layout fully configurable using 7 different sections
Mark posts as EVENTS and list sections with and by event dates.
Quick Links box in the sidebar neatly offers Search and Archive menus
Image thumbnails are all generated on the fly – NO CUSTOM FIELDS!
Homepage thumbnails all ZOOM to reveal more information and larger image
Integrated Feedburner Sign Up Form
Integrated, Widgetised Adsense in Sidebar and Posts (colour themed to each scheme)
Viva Video in sidebar allows for random display of YouTube and/or MySpace videos via playlist and/or specific videos by post, page or category
Integrated Viva Carousel with 2 postion options and choice of POST or GALLERY IMAGE display
Smart Menu plugin adds a hidden Menu bar to the site.
Fully Widget ready with sidebar, top and bottom widget locations
Ability to add custom page content without editing theme code.
Price:
Single Site Licence: $79.95
Multi Site License: $199.95
This theme is no longer available. Check out the latest premium WordPress themes or the best premium WordPress themes collection.