wpCasa released a clean & extravagant child theme – Marbella for real estate website that with unlimited accent color options and a customizable header image. This theme inherits all the functionality of the wpCasa framework theme.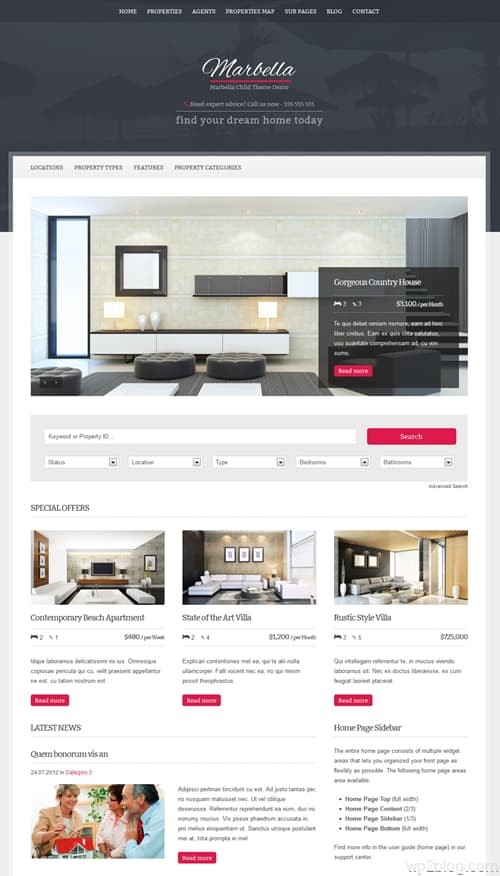 Price: Marbella Child Theme: €19 Developer Package: €89
wpCasa Theme Framework & Child Theme: €69
WPCasa Real Estate WordPress Framework
WPCasa is a professional, responsive real estate WordPress theme framework that lets you to create professional, fully featured real estate websites without needing any coding skills.
The WPCasa Real Estate Theme Framework is designed for both for WordPress beginners as well as experienced developers. It's extremely flexible and comes packed with lots of great features such as a custom property editor, comprehensive theme options, layout settings, drag-and-drop custom widgets, advanced search functionality, shorcodes, as well as thoughtful use of WordPress action and filter hooks for advanced customisation.
WPCasa Features
Property Editor
It includes a property editor to easily create property listings. From a property edit screen you have fields and meta boxes to enter all the property features and details such as price, location, property type, property features, location etc.
Advanced Search
WPCasa comes with an advanced search function so users can easily search for properties. It scans your objects by keyword or property ID, custom taxonomies, custom fields such as price or property status. You can easily change the form fields to your needs on the theme settings page.
Custom Widgets
It includes a set of extremely useful custom widgets. The entire front page and the single property page (as well as sidebar and the footer) are widget areas, so you can simply drag and drop your preferred widgets in the corresponding areas and your site is set with a few clicks.
Property Management
Through the intuitive object list and custom property edit screens you'll be able to organize a great number of real estate listings. Advanced filters and search and order functionalities make browsing your realties a breeze.
Layout Options
Comprehensive options let you individually set the layout of both single property, post and/or static pages as well as general property and post archives. Change the position of the sidebar or select the full width layout and make your preferred featured image settings.
Theme Options
It comes with a wide (but not excessive) range of theme settings to make sure it's easy to set up. You'll find general options to upload your logo for example, property settings to set currency and features and search options to tailor the property search to your needs.
Shortcodes
wpCasa also comes with a list of handy shortcodes for buttons, alert boxes, sliders, galleries etc.
WordPress Features
It also natively supports WordPress standard features like custom menus, custom background image, custom headers, post formats and more.
Fully Localized
All the themes are fully localized (translatable) and available in English, Spanish, German, Portuguese, Italian, Polish & French. Theme translations can easily be edited or added through the WordPress admin.
Designs
There are two options when it comes to the design and themes. The wpCasa theme framework itself has a basic, minimalist design with all the functionality, making it a perfect starting point for your custom real estate website. Alternatively there are child themes available that will give you a professional, customised layout ready to go. Currently there are two child themes available: Casanova and Penthouse shown below.
Responsive Design
wpCasa has a responsive design so your site is accessible to visitors on mobile devices. wpCasa and all the child themes are fully responsive so it will look great on all different devices from desktop computers to mobile phones.
Fully Customisable and Easy to Handle
With custom property edit screens, comprehensive theme settings and extensive yet well-thought use of drag & drop widgets it is extremely easy to use and customise just like WordPress itself