Azione is a neat, structured video blogging WordPress theme from Obox Design with a massive view port for your HD videos and photographs. This theme build with OCMX Framework that is built from the ground up for designers & developers who do client work. Built to look like WordPress with documented code and css, it allows you to easily rebrand and enhance while making a tidy profit each time.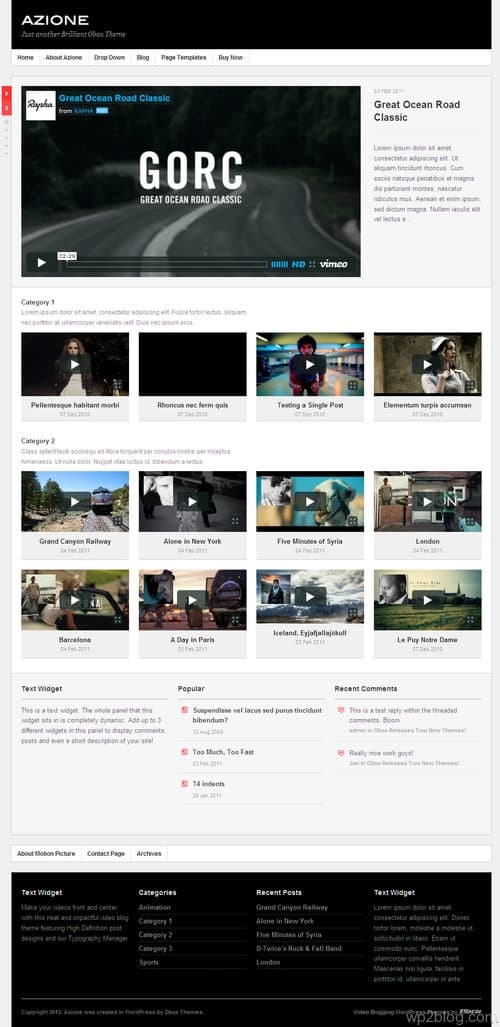 Features
Widgestised Home Page – Allows for unlimited videos to be displayed in a categorized format.
Short URL Support – New addition to an Obox Theme, we are using Googles shorten url plugin.
oEmbed Support – Simply cut & paste the url of your video and we will get the embed code for you!
Perfect for HD videos – Give your HD videos the space and attention they deserve with a massive 940px wide view port.
Works as a Standard Blog – If you want to use this as a normal blog with images instead of videos, it is 100% possible. They have made sure to include our standard image uploader with auto-resizing and filters.
Light Dark Color Schemes – One Light and One Dark scheme. As a side note when you use the dark theme the video really is front and center, it's an Obox favourite.
OCMX Options Framework
Custom Logo Input
Menu Management
Advertising Management
Automatic Image Resizing
Ajax Comments
Price:
Standard: $50
Developer: $100
Membership: $15/month
Obox Design also offers a range of professional & premium WordPress / Tumblr / Posterous themes including magazine / news, presonal blog, media, photo gallery, video and business / CMS templates.