Cubicle is a clean, professional business / CMS style premium WordPress theme from iThemes.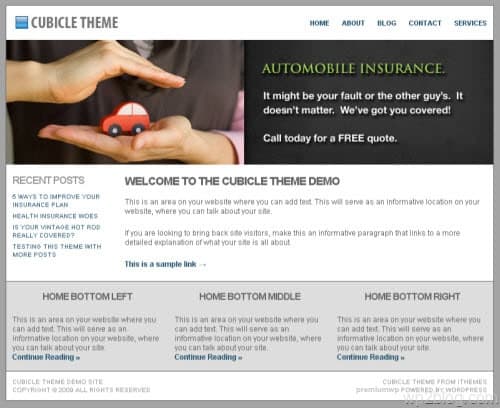 Features
Ultra-customizable and easy to set up
Custom page templates: left sidebar option, right sidebar option, full-width page template
Theme Options page: allows you to easily paste tracking code and enable a variety of features
Threaded comments
Custom Image Header Uploader– Image uploader feature allows you to personalize your site with your own logo
Showcase Photos Easily – Cubicle comes with a random image script that allows you to display multiple photos on your home page
Drop down navigation menu
WordPress 2.7 ready!
Built-in tutorials
Price:
Single Use: $79.95
Multiple Use: $149.95
Also available in iThemes Combo Packages and Theme Club
Demo & Release Page | Purchase
iThemes produce high-quality premium WordPress themes for photographers, designers, and businesses. They have a range of themes for different niches including: blogging, business, ecommerce, internet marketing, real estate and photography.
Rate this theme