Delegate is a professional business / CMS premium WordPress theme from WooThemes. It includes a home page featured content slider, 19 colour schemes, a number of custom widgets & page templates, backend options panel and more.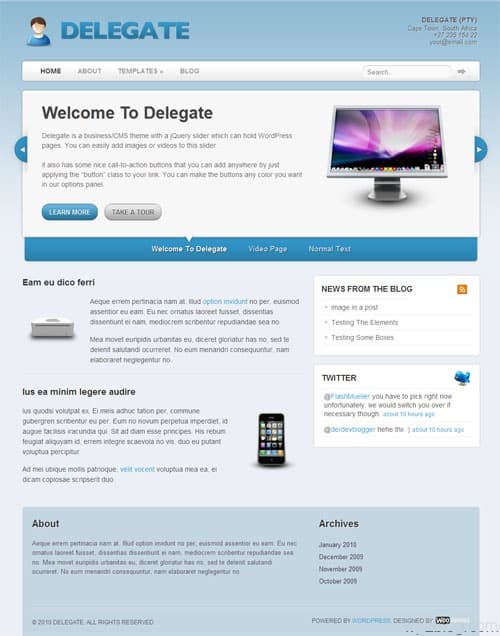 Features
19 delicious colour schemes
A custom home page featured area to showcase your work or products, with optional sub-featured area to give them more insight
Custom homepage designed to emphasise your most important information, with the option to display a traditional blog instead
Custom widgets for use in the sidebar and in the widgetized footer: Search widget, Ad space widget, Flickr widget
WooFramework2 with theme options panel
Drop down navigation menus
Backend theme options panel
Cross browser compatible
Auto-sizing thumbnails
Localized for translations
Custom page templates
Price:
Standard: $70
Developer: $150
There is a permanent 3-for-1 offer, or get all 50+ themes in the WooThemes Club
Demo & Release Page | Download
Woo Themes have an excellent selection of high quality WordPress themes covering a wide variety of niches including: business, CMS, magazine & news, portfolio, photo lifestream, multimedia, personal and professional blog designs.