Foreword Thinking is a unique 3 column blog / magazine style premium WordPress theme with a custom "table of content" design homepage. The theme is packed full of options including: two home page modules, a completely widgetized sidebar which can be set on the left or right of your content, 7 other custom widget areas, 10 different theme styles, the ability to set alternating colours for specific areas of the design and lots more. You have to try the live theme demo to fully appreciate this theme.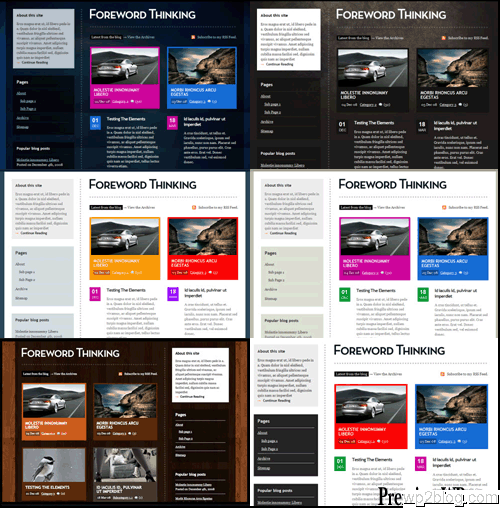 Features
A custom home page with a "table of content" designed blog section, featured posts and two available page modules that can be set in the theme options
Randomizing colour styling for featured posts and date blocks with colours editable in the theme options
A completely widgetized sidebar with 7 custom widgets that you can use
Ability to interchange between a left and right sidebar
10 different styles
Integrated Theme Options (for WordPress) to tweak the layout, colour scheme, logo insertion, etc. for the theme
Automatic Image Resizer, which is used to dynamically create the thumbnails for the blog posts on the home page
Custom Page Templates for Archives & Sitemap
Built-in Gravatar Support for Comments
Integrated Banner Management script to display randomized banner ads of your choice site-wide.
Price:
Single Use: $70
Developer: $150
Woo Themes have a permanent 2-for-1 offer which means you can purchase this theme and still be entitled to another theme for free. You can purchase Foreword Thinking as an individual licence or join the WooThemes Club to access all current and future themes from Woo Themes.
Demo & Release Page | Purchase
Woo Themes have an excellent selection of high quality WordPress themes covering a wide variety of niches ranging from business, CMS, magazine / news, portfolio, lifestream and personal blog designs.
Rate this theme:
[ratings]