Technology Theme is a sleek web 2.0 style CMS (content management system) WordPress theme from iThemes. The theme is designed specifically for businesses wanting a professional look, and features multiple page layouts, custom logo uploader, rotating photo option and more.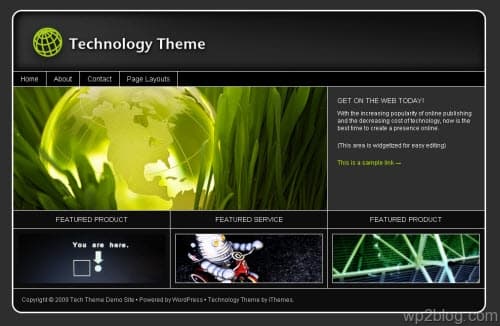 Features
Multiple page layouts
Blog index page
Drop down navigation menu
Technology Theme Options that allow you to easily paste tracking code and enable features
Showcase Photos Easily – Technology comes with a random image script that allows you to display multiple photos on your home page
Contact form embedded as a page template
Custom header image uploader
Featured image slideshow on the home page
Widgetzed home page areas
Background selector
WP 2.7 threaded comments
And more
Price:
Single Use: $79.95
Multiple Use: $149.95
Also available in iThemes Combo Packages and 2009 Theme Club
Demo & Release Page | Purchase
iThemes produce high-quality premium WordPress themes for photographers, designers, and businesses. They have a range of themes for different niches including: blogging, business, ecommerce, internet marketing, real estate and photography.
Rate this theme
[ratings]