JobPress is a WordPress theme that turns your website into a perfectly working Job Board. It comes with special features like a payment system, a settings / manage page, "freelance" / "part time" / "full time" tags, time stamps and more.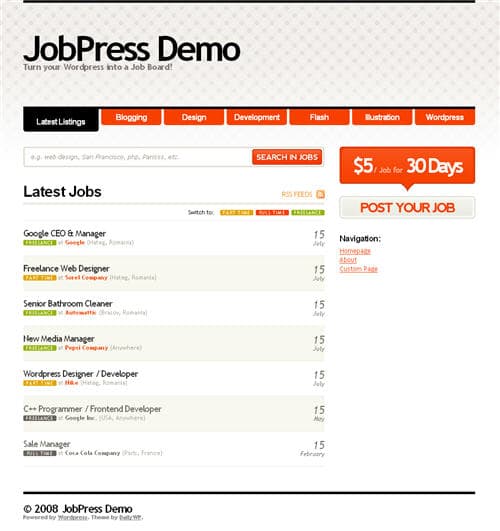 Features:
Settings Page: where you can edit and customize all theme features. You can set the payment system, customize the success message and mail, set the price and the currency without editing any file.
Payment System: Just paste your PayPal email in the settings page, set a price and a currency and you are ready to monetize. JobPress payment system is able to charge credit cards and paypal accounts.
Security: After the payment is done Paypal sends a signal to JobPress, and only if the signal is real the job will be published. Also a verify sign key is generated and stored in your database.
Displaying Jobs: Users are able to filter jobs using the "Freelance", "Part Time", "Full Time" tags, using the category and even "Freelance", "Part Time", "Full Time" in categories.
Time Stamp: All job classifieds older than 30 days are time stamped.
Usability: submitting jobs is easy. At the first step the information is entered, at the second step your users are able to preview their job ad and after the payment a custom success message is displayed and the job is publish automatically.
Price:
Single Use: $79 (Special introductory price: $59)
Multiple Use: $199 (Special introductory price: $99)
This theme is no longer available. Check out the latest premium WordPress themes or the best premium WordPress themes collection.